Covering Climate Now Journalism Awards Finalists
Congratulations to the 39 finalists selected for the first annual Covering Climate Now Journalism Awards.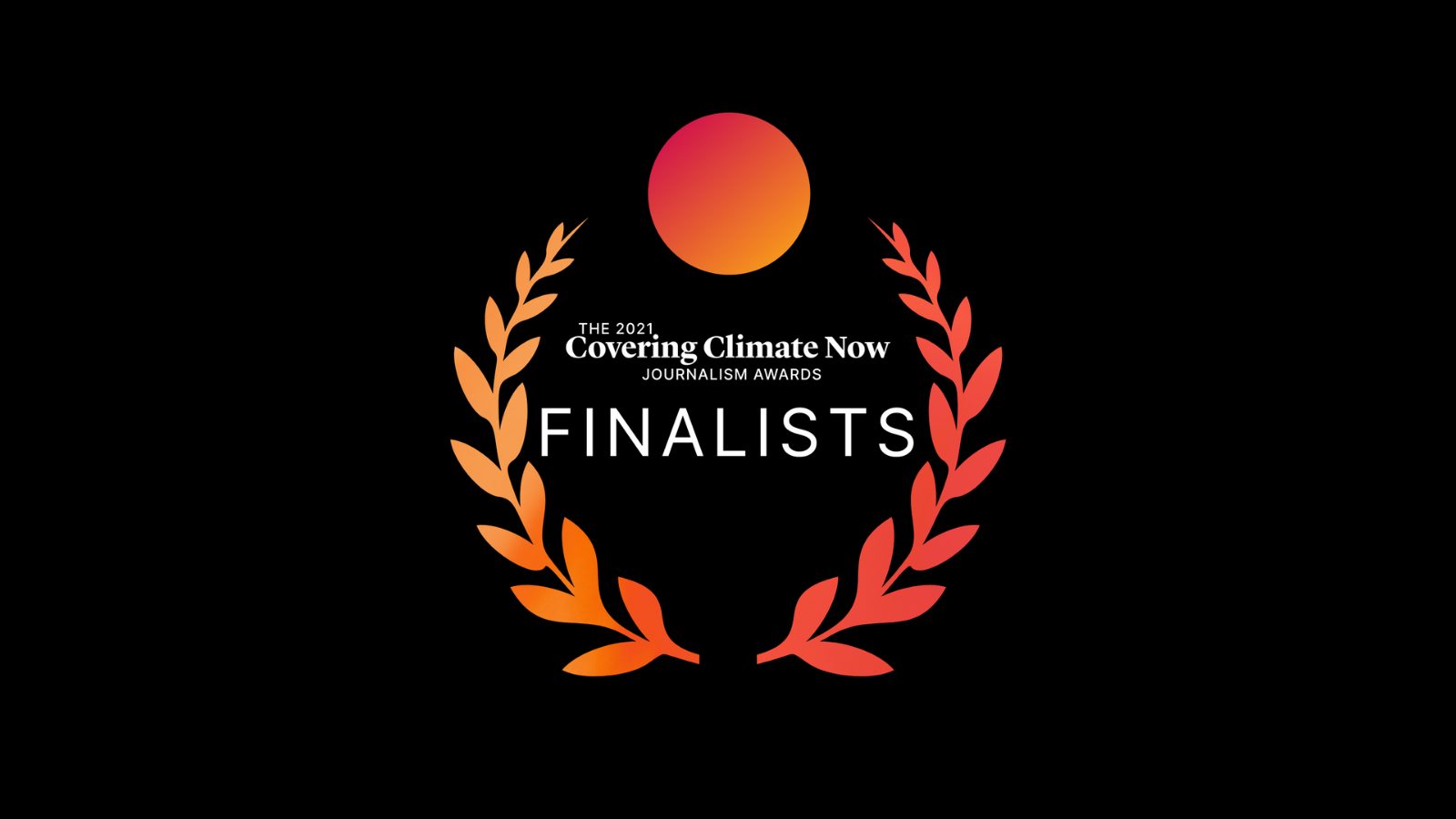 Congratulations to the 39 finalists selected for the first annual Covering Climate Now Journalism Awards celebrating the best in climate reporting in 2020. Finalists were short-listed from the nearly 600 entries we received from 38 countries. They include print reporters and photojournalists, digital, television and radio journalists, as well as podcasters and commentators. See the finalists below and learn more about the awards here.
Audio/Radio
Winner ~ Alaska Natives on the Front Line — Coffee & Quaq
By Alice Qannik Glenn and Jenna Kunze
This podcast provided a rare, insider's look at the impact of climate change on the Indigenous community of Utqiagvik, Alaska. Through intimate conversations with residents, the journalists drew listeners into a culture unfamiliar to many, revealing the precariousness of tundra existence as the planet warms and the resilience and resourcefulness needed to adapt and survive.
Winner ~ Drilled Season 3: The Mad Men — Critical Frequency
By Amy Westervelt
This series dug into the deep historical roots of the fossil fuel industry's long record of using disinformation to deny climate change. With excellent use of audio clips, this revealing series investigates how Big Oil's public relations machine—which dates back more than a century to John D. Rockefeller—provided a road map that oil corporations, as well as the tobacco industry, followed to mislead the public for decades.
When Is It Time to Retreat from the Sea? — The Public's Radio
By Sofie Rudin
Through clear-eyed and empathetic reporting, this series explored the hard reckoning of two coastal New England communities confronting sea level rise. Weaving together themes of emotional attachment and economic privilege; local politics and town budgets; innovative planning, property rights, and stoic resignation; this evocative storytelling captured the wrenching challenges facing countless communities around the world as shorelines erode due to climate change.
Colorado Public Radio Reporting Package — Colorado Public Radio
By Michael Elizabeth Sakas
In three very different radio features, Sakas reveals a keen understanding of complex issues, all packaged in smart analysis. Sound is effectively used of sound to create a sense of place and capture emotion, from a rancher happily geeking out about soil management to the poignancy of burned pine trees getting too parched to grow back. Her piece about teenagers using social media memes to engage in dark humor about the climate emergency—and spur themselves to action—demonstrates the value of newsrooms assigning younger reporters to the climate story.
---
Video/TV
All Hail the Lockdown—Connect It: The Wake-Up Call that Can't Be Ignored — Al Jazeera English
By Ali Rae, Meenakshi Ravi, and Ben Walker
Produced, filmed, and edited entirely at home during the coronavirus lockdown, this program compared the global response to the COVID-19 emergency with the response to the climate emergency.  The producers created a compelling narrative showing the connection between COVID-19 and the climate crisis, demonstrating that if we don't fix our broken relationship with nature, we will face even greater threats.
Winner ~ The Road to Change: America's Climate Crisis — CNN
By Bill Weir, Jim Murphy, Jessica Small, Julian Quinones, Evelio Contreras, and Davide Cannaviccio
This program took viewers on an epic road trip across America, introducing people whose lives have been dramatically and often irrevocably transformed by the climate crisis. From wealthy homeowners in Miami spending fortunes to future-proof their homes against rising sea levels, to Iowa's beleaguered farmers battling unpredictable weather, Weir treated all the people he met, whatever their views, with respect and compassion while dispelling myths and avoiding cliches about the impacts of climate change.
UNPRECEDENTED: A Climate Check Special — WTVJ NBC 6
By Christopher Clark and Angie Lassman
Generated out of a local newsroom in South Florida with a local news budget, this 5-part documentary series exemplifies the power of local reporting on a global scale. It documents the unprecedented wildfires in Australia and clearly connects them to the climate change issues and threats viewers are experiencing in South Florida, over 9,000 miles away.
---
Special Coverage, Series, or Issue
Climate Risk Hits Home — NPR
By Rebecca Hersher, Lauren Sommer, and Ryan Kellman
Over multiple stories and radio segments, this groundbreaking series revealed how millions of home buyers and renters were put in harm's way from fire or flooding due to inadequate disclosure laws and outdated building codes. Providing news you can use, the reporters also wrote concise consumer climate guides for potential renters and homeowners.
Money to Burn — Argos
By Hazel Sheffield, Sophie Block, Ties Gijzel, Catherine Joie, Paul Toetzke, Piret Reiljan, and Silvia Nortes
This multimedia, cross-border investigation revealed how Europe's renewable energy policies had the unfortunate effect of accelerating the clear-cutting of forests in some of Estonia's nature reserves.  This ambitious, comprehensive, and skillfully executed series required business, political, and environmental reporting across multiple borders. It was a collaboration of several freelancers, and 27 publications in eight countries—no easy feat.
Winner ~ The Great Climate Migration: A Warming Planet and a Shifting Population — ProPublica
By Abrahm Lustgarten, Al Shaw, Meridith Kohut, Lucas Waldron, and Sergey Ponomarev
Breathtaking in its ambition and scope, this series pulled together familiar threads about the impact of climate change on migration with a renewed sense of urgency, on a truly global canvas. Painstaking data journalism combined with absorbing storytelling explained what we are seeing today, and what the world might look like tomorrow, with visuals that were impossible to ignore.
Climate Change in Bhutan — Channel News Asia
By Jack Board
This series of online stories and videos introduced an untold angle to the climate story by exploring how rising temperatures imperil communities and important Buddhist cultural sites in Bhutan. While vividly describing this small, remote nation's efforts to work towards becoming carbon neutral—despite being economically disadvantaged—this series underscored the global nature of the climate crisis and the need for collaborative global solutions.
---
Photography
Winner ~ Bangladesh's Hidden Climate Costs — The New Humanitarian
By Zakir Hossain Chowdhury
This series of photographs combined stunning portraits of people confronting rising sea levels with photographs capturing desperate efforts to hold back water, and aerial images that powerfully documented a community's climate vulnerability. It provided a compelling visual narrative of the Sisyphean task people faced in the aftermath of a cyclone that washed out protective embankments and triggered recurring high tides.
Covering Climate at The Narwhal — The Narwhal
By Amber Bracken
This photo essay brings viewers to a pipeline protest in British Columbia, where Native people have been protesting construction of the Coastal GasLink Pipeline to supply fracked gas to LNG Canada. This series beautifully captured the stark visual contrast of Wet'suwet'en women in traditional garb juxtaposed with the militarized male presence of the Royal Canadian Mounted Police officers as they confronted one another in a remote, frozen landscape.
Winner ~ Heart of Fire — AFP
By Josh Edelson
Edelson's photo series documented many angles of a devastating story in northern California. From the start of a raging fire, when orange skies blanketed San Francisco, to the moments when fire was actively overtaking homes and livelihoods, to the human toll of complete destruction—striking images captured the overwhelming size of the inferno and its emotional impact on both firefighters and the displaced.
---
Commentary
Climate Change Is a Political Crisis, Not a Reproductive One — Undark
By Ramin Skibba
This commentary tackled head-on a big lie that the fossil fuel industry has peddled for decades: that it is primarily the responsibility of individuals to change their behaviors to save the climate. Skibba argued for staying focused on the root causes of the crisis, which are political and economic, rather than becoming distracted by the suggestion that people should have fewer children as a means to end climate change.
Stranded Assets — Bloomberg Green
By Kate Mackenzie
Mackenzie's 'Stranded Assets' column, which focused on how finance shaped global warming and is being shaped by it in turn, has pulled off an impressive feat. It was at once accessible for the casual reader and also elucidating for insiders. The writing was unemotional, yet full of urgency, and staked out arguments for business leaders that are as inventive as they are necessary.
Winner ~ The Media Isn't Ready to Cover Climate Apartheid — The Nation
By Michelle Garcia
Observing the media's tendency in the early months of the COVID-19 pandemic to focus on the experiences of mostly white and relatively affluent communities while ignoring the inequalities faced by poorer groups and communities of colors, Garcia questioned the media's preparedness to use a more inclusive lens as it covers the climate crisis.  This commentary was seen as a needed corrective and a call to action for journalists to do better.
---
Multimedia
Climate Data Dash — Bloomberg Green
By the Bloomberg Green Graphics Team
Data Dash takes a strong idea—that climate data should be as ever-present in climate coverage as financial data is in business coverage—and elevates it with engaging, digestible descriptions of complex ideas and an exemplary use of graphics. The dashboard on its own was worthy of recognition, but the Bloomberg Green team goes further, building dynamic stories on top of the data to make the numbers visceral and relevant.
The Pandemic Gave the World a Golden Opportunity to Fix the Climate Crisis. We're about to Waste It. — CNN
By Ivana Kottasova
This piece blended data visualizations, immersive photography, and print to connect the COVID-19 pandemic to the climate crisis. The package looked at the effects of climate change on four countries—Poland, Canada, Australia, and India—with strong prose and detailed maps.  The data visualizations were particularly effective at communicating big takeaways from massive datasets.
Winner ~ The Sound of Icebergs Melting: My Journey into the Antarctic — The Guardian
By Jonathan Watts
Using evocative multimedia elements to transport readers to the Antarctic, this piece took readers on a sensory journey to the frontline of the climate emergency.  Watt's storytelling reveals both ominous evidence of glacial melt as well as hopeful signs that concerted action can make a difference.
---
Breaking News
Winner ~ Jake Spring's Breaking News Coverage on Brazil's Environment — Reuters
By Jake Spring
This package of stories about deforestation in Brazil revealed how the government of President Jair Bolsonaro used the pretext of COVID-19 safety measures to undermine inspection policies intended to protect the rainforest.  Spring's tenacious coverage is evidence of a reporter who deeply understands his beat, and stays on its cutting edge.
Megadrought and the Colorado River's Worsening Crisis — The Arizona Republic
By Ian James
This strong regional coverage was well-grounded in science and showed how climate change is intensifying drought and reducing water flow in the Colorado River. It served its local audience in Arizona with breaking news, but also made the broader context clear for the 40 million people from Wyoming to the border with Mexico who depend on this water. Its clear, punchy writing style managed to project urgency while avoiding the trap of sensationalism.
Siberian Heat Drives Arctic Ice Extent to Record Low for Early July — Mongabay
By Gloria Dickie
After a Siberian town registered the highest-ever recorded temperature above the Arctic Circle, Dickie reported on the science and urgency of rapidly melting ice. Using clear, evocative language, Dickie captured the drama of broken records in compelling terms.
Sudan's flood… The Raging River Is a Victim of the Extreme Climate  — Freelance
By Rehab Abd Almohsen Bakr
This story reported on historic flooding of the Blue Nile in Sudan, and contextualized a highly local concern with the global ripple effects of climate change. It explored many different points of view on why this flooding was so severe; accompanying photos emphasized and reinforced the human impact. Published in Arabic, this story brought light to a subject underreported in the English-speaking world.
---
Investigative Journalism
Empty promises for the victims of climate change — Sveriges Natur
By Carolina Jemsby and Nils Resare
This story revealed underreported and seemingly widespread corruption in climate compensation payments from wealthy nations intended for affected communities in Kenya. It combined on-the-ground reporting of personal and village-level shortfalls with big picture analysis of the political, diplomatic, and climate context that might explain why money is being siphoned away from where it is needed and had been promised.
Winner ~ Who Killed the Supergrid? Trump Appointees Short-Circuited Grid Modernization to Help the Coal Industry — InvestigateWest and The Atlantic
By Peter Fairley
This meticulous story revealed the Trump administration's deliberate effort to bury a federally funded study that provided evidence that a connected super grid would accelerate the growth of wind and solar energy. The story made the abstraction of the nation's  power grid interesting, and Fairley's explosive disclosures also led to regulatory change.
---
Feature
Climate Change Turns the Tide on Waterfront Living — Washington Post
By Jim Morrison
Through vivid reporting on one community's efforts to plan for a future where rising sea water makes coastline living increasingly untenable, this story illustrated an issue of national significance in a tangible, human fashion. Examining the political and financial complexities of "managed retreat," Morrison handled complicated policy issues with a deft touch, highlighting both the challenges and the opportunities communities face.
Winner ~ How Climate Change Is Ushering in a New Pandemic Era — Rolling Stone
By Jeff Goodell
This story cleverly used pandemic diseases as a strong hook for a fascinating, detailed story that explained how climate change is driving habitat destruction and species migration, leading to a new wave of pandemics. Goodell employed cinematic techniques, zooming in close for a visceral description of a mosquito bite, before pulling back for interviews with key scientists and then wider still for an historical overview of diseases such as dengue fever and Zika virus.
How Zimbabweans Welcomed Climate Migrants — Yes! Magazine
By Andrew Mambondiyani
Increasing drought in the lowlands of Zimbabwe has driven farmers to migrate to more fertile areas in the Eastern Highlands. Using up-close reporting, Mambondiyani told the story of how people in the latter region—itself not wealthy—recognized the human needs of climate migrants and responded with solidarity and openness, developing policies to foster this migration.
One Brazilian Farmer Tried—and Failed—to Ranch More Responsibly in the Amazon — Reuters
By Stephen Eisenhammer
This piece combined a rigorous analysis of one of the root causes of deforestation with a colorful description of Mauro Lúcio Costa, the Texas hat and buckle-wearing cattle rancher of northern Brazil who tried, and failed, to more sustainably farm in the Amazon. Exposing how systemic failures, abetted by President Jair Bolsonaro's government, have allowed cattle raised on illegally cleared land to drive down prices, this entry dug deep to explain how, and why, holes are being punched into the lungs of the world.
Perfect Storm — Economic Hardship Reporting Project and Harper's
By Sierra Crane Murdoch
This story took readers on a journey to one of the many places on the frontlines of the climate crisis—the US territory of the Northern Mariana Islands. Through powerful on-the-ground reporting with a focus on environmental justice, this piece elevated the voices of the people of the Northern Mariana Islands, while also highlighting the universality of climate change and the tough decisions many populations will face in the near future: to stay or leave.
The Rancher Trying to Solve the West's Water Crisis — POLITICO
By Annie Snider
Through the experiences of fifth-generation Colorado rancher Paul Bruchez, Snider offered a fresh look at water management issues along the Colorado River, whose bounty is being dried up by climate change. It expertly chronicled the efforts Bruchez made to engage his neighbors and  devise innovative solutions to the water crisis affecting them all, and ultimately everyone from Wyoming to the United States's border with Mexico.
Toward the Desert — Sierra Club
By Jessica Camille Aguirre
In a vivid work of journalistic story-telling, Aguirre reported on the agonizing decisions facing a family of Guatemalan farmers as they contended with rising temperatures and erratic water supplies in what was once a thriving agricultural region. It offered a glimpse into family dynamics and the excruciating calculations that may compel some people to leave their homes.  Through her work, Aguirre provided a backstory to climate change and immigration, two converging issues of our time.
---
Emerging Journalists
Jessica Fu — The Counter
Jessica Fu has an exceptional ability to explain scientific topics in an accessible way. Often focused on climate solutions, she covered a range of topics—from soil salinization to carbon banking to plant proteins—and brought them to life, walking the reader through complicated science in a way that was engaging and fun.
Winner ~ Rahma Diaa — Work published in: One World, ARIJ, Climate Tracker, Aleyada, Scientific American Arabic
Diaa has produced a body of fine journalism in a region where climate reporting is especially challenging, particularly for women. Diaa has reported a wide range of intersectional climate change stories that impact her community, such as the health impacts of the increased use of coal in Egypt, water scarcity in Iraq, and women at work on the front lines of climate change.
Melissa Godin  — Work published in: TIME, The Guardian, Telegraph, The New Humanitarian, Wall Street Journal, Paris Match, Mirror
Melissa Godin's work stood out for her refreshingly original topics, assiduous reporting, and lively characters, resulting in journalism that teaches but also delights. Godin has brought her readers into unfamiliar worlds and introduced them to fascinating people, while holding tightly to the reins of structure and story focus.
Alex Harris — The Miami Herald
While working in breaking news, local journalist Alex Harris has also produced exceptional investigative work characterized by innovative angles and strong sourcing. Harris's entry was a great example of effective local journalism that can explain what's happening at a granular level, while having international relevance.
The Covering Climate Now Journalism Awards are made possible by the generous support of the Michaux Family Foundation, Wayne Crookes, Bob and Sandra Taylor, and a founding grant from the Schumann Media Center.