Sign up to receive our weekly newsletter. 
Solutions to the climate emergency come in all shapes and sizes. But some (we call them "super solutions") are much stronger than others, a key point for journalists to convey this Earth Week, and beyond.
Kudos to Damian Carrington, whose close reading of the IPCC's Sixth Assessment Report spotted a chart he labeled a "map of climate optimism" in the Guardian's "Down to Earth" newsletter (sign up here).  The chart lists more than 40 courses of action that governments, corporations and people can take to cut emissions in half by 2030 — and thus keep the world within reach of the Paris Agreement goal of limiting global temperature rise to 1.5 degrees Celsius.
Crucially, the IPCC chart ranks which solutions deliver the most bang for the buck. It also notes each solution's economic costs. Five options emerge as clearly superior, in the following order:
Solar and wind. Together, they could cut global emissions by 8 billion tons a year, the equivalent of today's emissions from the United States and the European Union combined — and do so "at lower cost than just continuing with today's electricity systems," Carrington writes.
Stopping deforestation. Leaving trees standing, and restoring degraded forests and ecosystems, could cut emissions by an additional 7 billion tons a year, equivalent to current emissions from Africa and South America combined.
Saving energy. Shifting to more efficient appliances, lighting, and heating and cooling technologies could cut emissions by 4.5 billion tons, again at cheaper cost than today's practices. (More efficient transport, including expanded public transit, would bring further cuts.)
Cutting methane. Plugging leaks at fossil fuel mining, drilling, and processing facilities could cut emissions by an additional 3 billion tons.
Biochar. Burying charcoal in soil diverts carbon that otherwise would heat the atmosphere. Although relatively expensive, it could be paired with "no-till" farming to save 3.4 billion tons.
Carrington's translation of the IPCC chart into plain English provides fellow journalists with a plethora of super solutions stories to explore. Chances are, companies and households near you are considering or switching to solar or wind power, or choosing more efficient vehicles or appliances (and, in the US, paying for them partly with subsidies from the Inflation Reduction Act). Farmers could also be experimenting with "climate-smart agriculture." Good solutions reporting describes the climate benefits of such shifts while also interrogating how they're working out for the individuals and businesses involved.
Carrington writes that the solutions ranked by the IPCC "require no new technology" but rather "a resource heavily lacking so far, the political will to push aside vested interests and radically pursue the policies that will work." Too much climate coverage has channeled the view that the 1.5 degrees C target is hopelessly out of reach. That view is grounded in what its proponents assume is political reality, but it ignores what history teaches: that political reality can be changed — sometimes very quickly — by elections, by public protest, and by skillful leaders. Millions of people around the world are working to change today's political realities. That's the story, with its immense drama and consequence, we journalists need to be telling, without prejudging the outcome.
From Us
Keeping 1.5 C alive? Last week, CCNow held a press briefing with three experts on the challenges of limiting global heating to 1.5 degrees Celsius. Topics discussed included the urgent changes required across all economic sectors to reduce carbon emissions, the critical context needed for stories on carbon offsets, and ideas for better reporting on climate justice. Go to the press briefing.
Noteworthy Stories
Follow the (Oil) Money. ExxonMobil CEO Darren Woods' annual compensation jumped by over 50% last year to a whopping $35.9 million while workers' compensation dropped by 4%. Despite a year of record profits for the oil industry, median worker compensation declined at several large energy companies. By Sabrina Valle at Reuters…
To Gas, Or Not To Gas? Leaders of the world's largest economies (except China) agreed to massively boost solar and wind power production but left open the possibility of developing more methane gas, including liquified gas.The G7 summit's communique says gas investments must be "implemented in a manner consistent with our climate objectives" — language that, if strictly interpreted, would allow for no new gas. Read it at CNBC… 
Florida Rain Bomb. Climate change helped cause the two-plus feet of rain that fell on Fort Lauderdale in one day last week, shutting the airport and sending cars floating through neighborhoods. The city's drainage systems are nowhere near able to handle such downpours, which scientists expect to become more frequent in years ahead. By Alex Harris at The Miami Herald…
Cool Your Jets. Authorities at Amsterdam's Schiphol airport, one of the busiest airports in the world, have proposed banning private jets, which cause, they say, "a disproportionate amount of … CO2 emissions per passenger." By Francesca Street at CNN…
Brutal Heat. The deadly heat that wracked much of India in spring of 2022 has returned this year and is afflicting China, Thailand and other Asian countries as well. The sudden onset of the record-setting temperatures are more dangerous than late-summer heat because people haven't had time to acclimatize. By Rebecca Leber at Vox…
Book of the Week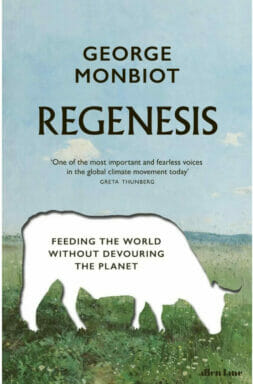 Reading books can deepen your climate coverage and identify authors to interview.
Regenesis: Feeding the World Without Devouring the Planet By George Monbiot
Eating much less meat is another climate super solution, argues author and Guardian columnist George Monbiot in this deeply reported book. A worldwide shift to a plant-based diet would enable "rewilding" immense tracts of land that could absorb as much carbon as humans have emitted in the last 16 years. Additional solutions include breaking up monopolistic food companies (whose pricing practices impoverish farmers and undernourish the poor), ending the abomination of growing crops to power machines (i.e., biofuels) and, most controversially, producing much more food via fermentation.
Events
Earth Day. Extinction Rebellion UK will hold a four-day event outside the UK Parliament building in London to protest the government's response to the climate crisis. The protest is set to feature some big-name climate luminaries and hopes to attract 100,000 people. Starts April 21. Learn more. 
Deb Haaland at SEJ. The US Interior Secretary will give the keynote address, and take questions, at the Society of Environmental Journalists's annual conference on April 21. RSVP here. SEJ will also livestream plenaries on "clean energy and the land" and "covering gender and environment."
Journalism conference. The International Journalism Festival is happening now in Perugia, Italy, and is being streamed online. A number of climate-themed panels are being held April 22-23. Learn more. 
Indigenous voices. The Peasant and Indigenous Press Forum is holding an event on "how Indigenous self-determination is countering climate collapse." April 27. RSVP.
Industry News
Climate in the newsroom. "Climate coverage requires a reorganization of newsrooms," writes Vanessa Gruber, a fellow at the Reuters Institute. Gruber outlines the challenges of covering climate change for journalists throughout the newsroom — for example, lack of climate knowledge. She offers a number of recommendations, including climate literacy training, clear structures for expansion of coverage, and fostering a culture where "every story is a climate story." Read more.
Jobs, etc.
Jobs. The New Scientist is recruiting a reporter for its office in London. CalMatters is looking for a climate reporter in the Bay Area.
Mentorships. Climate Tracker is accepting applications for its Climate Journalism Mentorship Program available to journalists from various Latin American countries. Learn more.
Fellowships. For Caribbean-based journalists, applications are open for the Climate Justice Journalism Fellowship offered by Climate Tracker and Open Society Foundations. Learn more.