Sign up to receive our weekly newsletter
Antarctica's "doomsday glacier" is melting faster. Climate activists are shifting tactics. The president of the World Bank is resigning after questioning climate science. The climate story is evolving quickly, in many directions, as the crisis accelerates. Which makes strong news coverage all the more important so that the public and policymakers alike can make the best possible decisions going forward.
CCNow has therefore updated our "Best Practices for Climate Journalism." A new story by Stuart Braun at Deutsche Welle is a prime example of adhering to tip number 10, "Don't get spun" — good advice for journalists in general, and especially when reporting on climate stories. 
As Braun reports, after oil and gas companies made a whopping $200 billion in profits in 2022, some of them are rolling back their pledges to reduce greenhouse gas emissions. Last week, after reporting record profits of $28 billion for 2022, BP announced that its oil and gas output will decline by only 25%, rather than its promised 40%, by 2030. To add perspective on BP's pledge rollback, Braun dug up a 2020 statement by the company's head, Bernard Looney: "We need a rapid transition to net zero. Society has got to deliver on the Paris [Agreement] goals." Thus, the reader learns that Looney's actions directly contradict his stated beliefs on climate change. 
A BP spokesperson told Braun that 35% (or $8 billion) of its capital expenditure will be invested in "transition growth engines," such as electric vehicle chargers and sustainable aviation fuels, by 2030. For context, Braun then quoted an expert at Carbon Tracker, a climate think tank, who noted that those $8 billion in "transition growth" investments will be counterbalanced by an identical amount of "capital spending on oil and gas." 
The Deutsche Welle journalist also reported that the top five oil and gas companies, including BP, spent an average of $750 million on climate-related communications in 2021. "Around 60% made 'green claims,' including about their pro-climate credentials, that were 'inconsistent' with investment plans," he writes, citing Influence Map, a nonprofit that tracks the impact of lobbying on climate policy. 
In other words, companies like BP are not walking the talk. 
The advice "Don't get spun" is relevant for journalists across the board. Whether we're covering companies, governments (including the climate promises made by the Biden administration about the Inflation Reduction Act, as we wrote about last week), or activists, our job is to determine the truth as best we can and then share it with the world. Our "Best Practices for Climate Journalism" guide has lots more tips and tools to help do that. Check it out, and please send any comments to editors@coveringclimatenow.org.
From Us
CCNow Q&A. Three journalists from Maine Public — Susan Sharon, Patty Wight, and Nicole Ogrysko — spoke with us about their station's "Climate Driven" series, which examines how climate change is reshaping Mainers' lives and the climate solutions they're putting to the test, about working collaboratively across the newsroom, identifying climate stories in every county, and the EV that's made the project possible. Read it at Columbia Journalism Review.
Awards. Submissions are now open for the 2023 Covering Climate Now Journalism Awards, with a new honor added this year for Best Climate Solution Story. The submission deadline is March 15. Learn more. 
Noteworthy Stories
Getting personal. For the first time, board members of a company are being personally sued for failing to take adequate climate action. In the UK, environmental lawyers from ClientEarth have filed a lawsuit against 11 board of directors at Shell, which announced record annual profits of $40 billion earlier this month. By Damian Carrington at the Guardian…
Charged up. Cities across the US are prioritizing the installation of charging stations needed to power electric cars. Cities such as Los Angeles, Atlanta, Kansas City (Missouri), and Seattle are leading the way, but many obstacles remain, and equity remains a concern. By Joann Muller at Axios…
What can I do? Thirty percent of the emissions reductions expected from the US Inflation Reduction Act are linked to potential actions by consumers. "The idea that we don't need individual action — it's just materially and scientifically incorrect," said Project Drawdown executive director Jonathan Foley. By Shannon Osaka at The Washington Post…
Whale of a solution. Restoring whale populations, which dropped dramatically due to industrial whaling, could help fight global warming. A groundbreaking study finds that whale bodies hold an "enormous amount of carbon" that otherwise would be in the ocean or atmosphere, and their waste "supercharges" the growth of carbon-consuming marine life. By Corinne Purtill at the Los Angeles Times…
Book of the Week
Reading books can deepen your climate coverage and identify book excerpts and authors to interview.
The Climate Book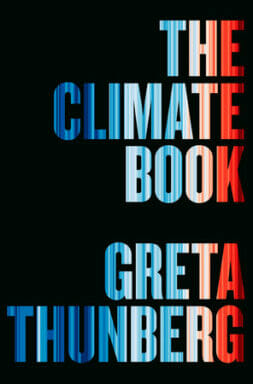 Climate activist Greta Thunberg's third book "The Climate Book" is a collection of essays from over 100 activists (including her), scientists, journalists, and others on the state of the climate, and what needs to be done to limit global temperature rise. Some newsrooms, such as TIME and the Los Angeles Times have published excerpts.
Via Twitter
Jeff Berardelli, chief meteorologist and climate specialist at WFLA-TV (Tampa Bay), shared NASA's embeddable climate spiral illustrating global temperature rise since 1880. 
Global Warming (animation NASA/ NOAA sped up 3X) pic.twitter.com/onRTqM6qJq

— Jeff Berardelli (@WeatherProf) February 15, 2023
Events & Resources
Climate solutions. Drawdown Lift, a program of Project Drawdown, will hold a background briefing for reporters who cover the climate-development nexus in African and South Asian countries. It will include findings from their "Climate–Poverty Connections" report on climate solutions in low- and middle-income countries. RSVP. 
Climate beliefs. The Yale Program on Climate Change Communication has a new study out, "Climate Change in the American Mind," about global warming beliefs, perceived risks, mental health, and more. Check it out. 
Industry news
Responsive journalism. After their audience asked for more stories on climate solutions, The New York Times launched "Someone to Know," a new series about "people from all walks of life doing something inspiring, effective, fun or otherwise noteworthy about climate change." Read the first installment here.
Column launch. The Washington Post has launched "Climate Lab" —  a visual and data-driven bi-weekly column about climate, environment, and extreme weather. See the first column here.