Christiana Figueres, the Costa Rican diplomat who brokered the 2015 Paris Agreement, has had enough. "I thought fossil fuel firms could change. I was wrong," declares the headline of a powerful article she published on July 6 in Al Jazeera. Coming from such a mainstream climate luminary, Figueres's change of heart cries out for follow up from journalists everywhere.
More than almost any other leading climate advocate, Figueres confesses, she had long wanted to believe that fossil fuel companies could be part of the solution to climate change. After all, with their indisputable technological expertise and immense political and economic power, they could almost single-handedly shift the world economy onto a new, clean energy foundation. And their public statements and TV ads pledged to do just that.
"But," Figueres now writes, "what the industry is doing with its unprecedented profits over the past 12 months has changed my mind." Higher fossil fuel prices driven by the war in Ukraine made 2022 a record-profit year for the industry. But did the firms use that bonanza to shift their core business away from carbon-based fuels? Hardly. They gave the bulk of those profits to shareholders and their own executives, even as they announced plans to expand oil and gas production.
Figueres is not alone in turning against fossil fuel companies. Former US vice president Al Gore now argues that solving the climate crisis requires battling — not collaborating with — those companies, including barring them from international climate negotiations. Even Sultan al Jabar, the head of the United Arab Emirates state oil company who is presiding over the COP28 conference in November, now says that "phasing down fossil fuels is inevitable and it is essential."
With a straight face, fossil fuel companies, meanwhile, continue to portray themselves as champions of climate action. But Shell, for example, devoted just 1.5% of its capital expenditure to green energy sources, the watchdog group Global Witness documented. Last month, the UK's advertising regulator banned a Shell advertisement — which touted its commitment to green energy — for being misleading.
The gulf between what the industry says it's doing and what it's actually doing is an area ripe for accountability journalism, especially in the run-up to COP28. Digging into quarterly earnings calls and companies' strategic roadmaps can test the validity of industry pledges. Our reporting can also remind audiences that these companies have lied for decades about climate change, insisting there was no danger even as their own scientists were telling them the opposite.
If fossil fuel companies are allowed to implement their current business plans, they will burn down the planetary house. Figueres sees that as a bitter irony: "The fossil fuel industry will have powered human development in the 20th century and then destroyed it in the 21st." The history of the 21st century, however, is still being written. And journalism is history's first draft.
From Us 
CCNow job! We're hiring a Director of Training to develop our overall training strategy for newsrooms in the US and around the world. Apply by July 15. View the job.
The Finalists: Short-form Video 
We'll be previewing Covering Climate Now Journalism Award finalists' stories over the next few months.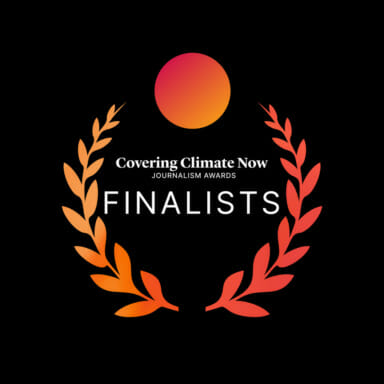 This week we're highlighting our four short-form video finalists. Hearst Television takes us through a highly localized seven-part series examining links between extreme weather and climate change as well as efforts to mitigate and adapt in the US; CBS News examines how unprecedented low levels of water in Lake Powell on the Colorado River are affecting livelihoods; the Swedish program Aktuellt brings us to Pakistan to talk to people whose lives were upended by devastating flooding; and the Associated Press handed the mic over to Indigenous women at COP27 to speak about their own experiences. See the short-form video finalists.
Noteworthy Stories
61,000. That's how many people died last year in Europe during the continent's hottest ever summer. Italy, Greece, Spain, and Portugal had the highest death rates. CCNow encourages the news media to report these updated figures. By Ajit Niranjan at the Guardian…
Renewables. In the first five months of 2023, US carbon emissions fell and, in a first for the country, renewables generated more power than coal. Successful implementation of the Inflation Reduction Act will encourage further reductions down the road as new projects become operational. By Benjamin Storrow at E&E News… 
Wake up. Sarah Kaplan characterizes the climate changed–linked events happening around the world as "the alarm bells of a planet on the brink." Pointing to research by the UN Intergovernmental Panel on Climate Change, she reports that global average temperature is set to rise more than 3 degrees Celsius. "The only question, scientists say, is when the alarms will finally be loud enough to make people wake up." Read it at The Washington Post…
Covering glaciers. A group of scientists traveled to the Dagu Glacier in southwestern China, located in the Tibetan Plateau, to cover part of it in a new reflective sheet aimed at shielding it from the sun and slowing ice melt. European ski resorts use this method to protect their snow, but the ice and snow will continue to melt unless carbon emissions drop drastically. By Sharon Chen with Luz Ding at Bloomberg…
Ocean-based solutions. A recent report by Oceana highlights how halting offshore oil and gas drilling, as well as phasing down existing production, can contribute nearly 13% of the emission reductions needed to keep global warming below 2 degrees Celsius. If implemented along with five other ocean-based solutions, that could amount to a nearly 40% reduction. See more at Peril and Promise…
Resources & Events
Achoo! Many people in the US think allergy season is getting worse in their communities, according to research by the Yale Program on Climate Change Communication and the George Mason University Center for Climate Change Communication. They are correct: Allergy season is beginning earlier, lasting longer, and becoming more severe due to climate change. Learn more.
Heat and disability. A Climate Beat reader submitted this article on how extreme heat impacts disabled and chronically ill people to share with the CCNow community. Unbiased the News! has prepared a tip sheet for journalists to better report on the intersections of climate and disability. Take me there. 
Map mastery. Maps are a powerful tool in visualizing and communicating climate change. Earth Journalism Network's explainer explores different map types and how to choose the right map for specific purposes, and provides links to tools and tips for creating impactful maps. Read more. 
Farmland solutions. The United Nations Environment Programme will hold a webinar exploring nature-based solutions on farmlands to address climate-related agricultural issues. July 27. RSVP. 
Climate journalism summit. Registration is open for the European Journalism Centre's 2023 News Impact Summit in Lisbon, Portugal, on October 12. Register.
Industry News
Misinfo. Arielle Samuelson and Emily Atkin urge TV networks to connect extreme heat to climate change, stating that ignoring the link is "more than oversight — it's misinformation." They also call on the news media to "go further, and connect climate change to the fossil fuel companies refusing to reduce their planet-destroying emissions." Read more.
Inspire action. Media coverage of climate change research tends towards topics that inspire fear and paralysis rather than action, according to a new study published in the journal Global Environmental Change. The researchers encouraged journalists to prioritize solutions-oriented studies, as well as local climate impacts. Read more.
Jobs, etc. 
Jobs. The Washington Post is recruiting a climate solutions reporter. WSOC TV in Charlotte, N.C., is hiring a climate beat reporter.
Awards. Applications are being accepted for the European Centre's climate journalism awards. Submit by July 17.
Training in Brazil. The Brazilian Association of Investigative Journalism, in partnership with The Centre for Investigative Journalism, is accepting applications for journalists to attend a four-day training course in Belém, Pará, to learn about reporting climate change and environmental issues. The training will be August 21-24, and the application deadline is July 21.
Sustainable finance trip. Clean Energy Wire is inviting journalists on a sustainable finance study tour to Germany's financial capital, Frankfurt am Main in September 2023 to gain expertise from experts at institutions such as the European Central Bank, Deutsche Börse, and Frankfurt School of Finance & Management. The application deadline is July 31.
COP28 fellowship. Climate Tracker is offering two in-person and two virtual fellowships to cover COP28 in Dubai, from November 30 – December 12 to African journalists from 18-35 years old. Apply by August 3.