Sign up to receive our weekly newsletter
In February, Covering Climate Now urged newsrooms to make the most of this month's Earth Day coverage by reporting on what we call "Super Solutions" – climate fixes that are likely to make the biggest difference in the least amount of time.
Speed, after all, was an unmistakable theme of March's landmark report from the UN Intergovernmental Panel on Climate Change, which experts called a "final warning." The report detailed how climate change is wreaking havoc worldwide and showed that humanity is on track to pass the 1.5-degree-Celsius threshold, beyond which climate impacts become more severe and potentially irreversible. "This report is a clarion call to massively fast-track climate efforts by every country and every sector," UN Secretary-General António Guterres said, further calling the IPCC's work "a how-to guide to defuse the climate time bomb."
The solutions emphasized in the IPCC report are ready to be deployed right now: Invest heavily in solar and wind energy. Protect forests and other ecosystems. Limit greenhouse gas emissions in our food systems and expand agricultural carbon sequestration. The list goes on — have a look at this graphic in the IPCC's "Summary for Policymakers" showing the relative potential of various top climate solutions.
For journalists, these solutions are ripe for inquiry, whether you work at the national level or for a local newsroom. Which of the biggest and best climate solutions are being implemented in your area? Are they being evaluated in a way that considers the well-being of people in terms of health, equity and justice? What factors are supporting or impeding their implementation? Are the realities of the solutions measuring up to leaders' promises? (An investigation by Scroll.in, for example, found that an Indian government afforestation program was pouring money into plantations that don't even exist.) Finally, are the solutions being implemented quickly enough to help avert climate catastrophe?
The IPCC report is good for a running start on "Super Solutions." But journalists will find plenty of expertise to go around. Project Drawdown highlights the best solutions for curbing carbon emissions "as quickly, safely, and equitably as possible." The International Energy Agency details how the energy sector can reach net zero (step one: no new fossil fuel projects). And last but not least, don't miss CCNow's Climate Solutions Reporting Guide, co-produced with our friends at the Solutions Journalism Network, and our plain-language cheat sheet to the IPCC report.
Of course, great coverage doesn't begin or end with Earth Day. The holiday is nevertheless a stellar opportunity to connect with audiences, including folks who might not already be climate-attuned. The IPCC report made clear how little time the world has to change course. As journalists, let's be sure to do our part — not as activists or cheerleaders, but as trusted conduits of the plain facts that our planet's in trouble, the solutions already exist, and they can't come fast enough.
From Us
Press briefing. What's needed to keep 1.5 degrees Celsius alive? As continuing emissions raise doubts about the Paris Agreement goal, join us for a one-hour discussion with Mustafa Santiago Ali, executive vice president of the National Wildlife Federation; Souparna Lahiri, senior climate and biodiversity policy advisor for the Global Forest Coalition; and Kelly Levin, chief of science, data, and systems at the Bezos Earth Fund. April 13. RSVP.
CCNow Q&A. Dallas-based journalist Amal Ahmed, of Floodlight News, shares how she organizes herself to tackle Texas's complex (and often oil-and-gas friendly) government and how covering the fossil fuel industry led her to the aspect of the climate story she's most passionate about: environmental justice. Read it at CJR.
Noteworthy Stories
Shell knew, too. A trove of newly uncovered documents reveal that the oil company Shell was aware of the harmful effects of burning fossil fuels as early as the mid-1970s, years earlier than previously thought. Despite this, Shell downplayed the risks to the public. By Matthew Green at DeSmog…
Oil racket. A Canadian company, ReconAfrica, has started drilling near one of Africa's most fragile ecosystems, the Okavango Delta, a UNESCO World Heritage site in northwest Botswana. So far, no oil has been found — and a leading geologist said it's "extremely unlikely" it will be — but ReconAfrica's alleged discovery of a large oil-and-gas basin has led its stock to skyrocket. By Jeff Goodell at Rolling Stone…
That's wild. Rewilding nature so that native animals and plants can flourish is a vital solution to the climate crisis, according to a new study published in Nature Climate Change. Protecting or restoring the wild populations of just nine species could help ecosystems capture about 95% of the CO2 that needs to be removed from the atmosphere to help limit temperature rise to 1.5 degrees C. By Paige Bennett at Ecowatch…
Gassing on. Many of the world's biggest banks have pledged to aim for net zero emissions, but they're still investing billions of dollars in liquefied natural gas projects. Their financial backing could lead to 12 new LNG plants along the US Gulf Coast by 2030, which would triple the US's gas export capacity. By Taylor Kate Brown at the Guardian… 
Lessons from Bangladesh. One of the countries that is most affected by the impacts of climate change, Bangladesh, is becoming a leader in climate solutions, in part due to its citizens' personal experience with and wide knowledge of the climate crisis. Its emergency warning system, which combines technology with community action, is helping to save lives. By Lauren Frayer at NPR… 
Book of the Week
Reading books deepens climate coverage and helps identify book excerpts and authors to interview.
Charleston: Race, Water, and the Coming Storm by Susan Crawford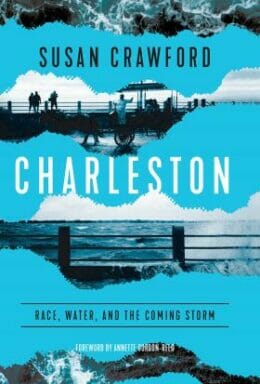 The future of countless coastal cities is forewarned by the flooding increasingly engulfing Charleston, South Carolina. Local leaders embrace wildly inadequate countermeasures — constructing a sea wall that will be obsolete before it is finished — while making the problem worse by favoring real estate development. Poor and Black residents suffer disproportionately, reports Crawford, a Harvard Law School professor and former Obama administration official. As rising seas make coastal properties difficult or impossible to insure, and thus to sell, experts fear a repeat of the 2008 housing market collapse that crashed the financial system. Publication date: April 4.
Free to Publish
The following stories deserve special consideration for republication by CCNow partners:
For partner outlets: The full list of stories available for republication and instructions to do so can be found in our Sharing Library. To submit stories for sharing, please use this form.
Events & Resources
IRA deep dive. The UCLA Emmett Institute is hosting a policy symposium on implementing the Inflation Reduction Act, with three panels on infrastructure, energy transmission, and transportation. April 12. Learn more and RSVP.
Mental health. The University of California Center for Climate, Health and Equity is convening experts to discuss justice and mental health, sea level rise, food systems, and communication for health professionals. April 12. RSVP. 
Earth Day events. EarthDay.org maintains a mapped database with hundreds of Earth Day-related events and actions around the world. Check it out. 
Carbon removal. The World Resources Institute convened a panel on carbon removal as a critical tool for addressing the climate crisis. Topics included the latest IPCC report's comments on carbon removal, the approaches that are progressing fastest, and the frontrunners in the carbon removal market. Watch.
Key points. The Fix unpacks the key challenges facing climate journalists, and potential solutions to them, as described in a recent report by the European Broadcast Union. Read it. 
Jobs, Etc.
Jobs. The Boston Globe is hiring a climate reporter. WSOC Charlotte is recruiting a climate beat reporter. Chemical & Engineering News is looking for a climate and environment reporter.
Award. The National Academies Eric and Wendy Schmidt Awards for Excellence in Science Communications is accepting submissions from science journalists that report on climate change. Learn more.