Sign up to receive our weekly newsletter
A new global public opinion survey offers valuable insights for journalists as we tell the climate story. The poll, conducted by the Yale Program on Climate Change Communication and Meta, underscores the media's key role in alerting people to the climate crisis and what can be done about it.
Although results vary by country, most people around the world understand that climate change is happening. They say that climate change is "extremely" or "very important" to them, and they are worried about it, especially about how it will affect young people and generations to come. They want governments to take action, and they believe that economies don't have to suffer as a result. But with the exception of many European countries, the public is not hearing very much about climate change — and that includes from the news media.
The study helps lay a roadmap for improving public understanding. Here's some guidance for journalists:
Run many more climate stories and include climate in weather, politics, business, sports, lifestyle, cooking, and other stories.
Communicate climate change basics — for example, that climate change is caused by humans and driven by burning oil, gas, and coal — and that scientists overwhelmingly agree about these basics. This is needed especially in low-income countries, where public awareness is the lowest.
Foreground young people — everyone cares about kids — and emphasize solutions, including voting and other actions to change government and corporate behavior.
What are people's climate change beliefs in your reporting area? Check out the country-by-country study results here. Share them with your audience, compare them to neighboring regions, and encourage everyone to learn, talk, and do more about the biggest story of our time.
Essential stories
$6 trillion. That's the loss of gross domestic product caused by the countries most responsible for the climate crisis, a new study finds. The research paves the way for lawsuits against the world's biggest emitters, starting with the US and China. By Ella Nilsen for CNN.
Nature in crisis. A new United Nations report says governments value economics above human well-being and environmental quality. This mindset and the resulting policies are driving widespread human suffering and a catastrophic loss of biodiversity. By Joseph Winters for Grist.
Attribution. Scientists can now say how much worse climate change has made some extreme weather events, and do so faster and with more certainty. Heat waves have the clearest connection. By Rebecca Hersher for NPR.
Climate disconnect. A new Media Matters analysis found that corporate broadcast and cable TV shows included climate change in just 37% of their segments on Yosemite's Washburn Fire in the US over three days in July. By Ted MacDonald for Media Matters.
Via Twitter
I feel like the media is sleepwalking into the record breaking (Again!) heatwaves this upcoming week- with their pool and sprinkler pics.

What are some solutions to alerting and educating the public about staying safe when the temp outside is deadly??

— Alexandria Villaseñor (@AlexandriaV2005) July 11, 2022
Alexandria Villaseñor, a youth climate justice advocate and founder of Earth Uprising, raises a good point about photo choices. The media's representation of climate plays an important role in how the public and policymakers alike think about it. Images for extreme heat stories should reflect the seriousness of the situation—for example, by portraying people in cooling centers or animals in visible distress.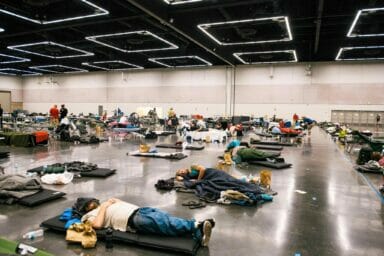 Extreme heat is dangerous. Newsrooms should avoid imagery that makes light of the situation, such as the 'fun in the sun' photo below. See this article in the Columbia Journalism Review on climate visuals for more.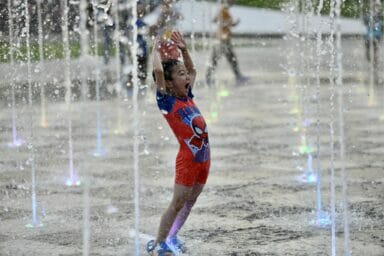 Free to republish
The following stories deserve special consideration for republication by CCNow partners:
For partner outlets: The full list of stories available for republication and instructions to do so can be found in our Sharing Library. To submit stories for sharing, please use this form.
Jobs, etc.
Jobs. Heated is looking for an enterprise reporter. The Washington Post is hiring a Weather Reporter, a Climate Graphics Reporter and a Climate Zeitgeist Reporter. (How's that for a cool job title?)
Fellowship. The Association of Health Care Journalists is seeking applications for the 2022-23 class of the National Science-Health-Environment Reporting Fellowships. Deadline is Sept. 1.
Training. Fundación Gabo and the Open Climate Reporting Initiative are holding an intensive workshop on investigative journalism and climate from Aug. 31 to Sept. 2. Applications are open to journalists covering climate in Latin America. Deadline is Aug. 1.