Sign up to receive our weekly newsletter
"There is no greater feminist cause today than saving the planet and each other," wrote Pakistani author Fatima Bhutto this week. Bhutto elaborated on this declaration in a powerful essay for the Guardian that shines light on an aspect of climate justice that has not gotten the attention it deserves: gender. As the climate crisis accelerates, it's women and girls who increasingly bear the brunt of its impacts, including increased poverty, displacement, and sexual violence, a fact the UN International Panel on Climate Change scarcely referenced in last week's Synthesis Report. News coverage can help remedy this oversight by recognizing the pervasiveness of gender-based climate injustice and the climate leadership of so many women and girls.
Recalling the super-floods that submerged one-third of Pakistan last year, Bhutto includes jaw-dropping statistics to convey girls and women's wildly disproportionate suffering from climate impacts, especially in the Global South. For example, nearly 700,000 pregnant women in Pakistan lacked maternal healthcare (or any medical care) during the floods, and rapid deterioration in access to hygiene caused an estimated 70% of women in flooded regions to suffer urinary tract infections.
News coverage of the injustices of the climate crisis has been increasing in recent years, usually framed in terms of race and class. But, Bhutto argues, gender-related climate injustice actually affects the largest number of people. For example, she notes that 80% of people displaced by climate impacts are women and girls. "The crisis will affect women more than everything else in the world — more than abortion rollbacks, more than oppressive governments, more than lower pay grades."
Women's experiences of climate injustice are as varied as the world is large. In the US, a recent story at The 19th points out that women are buying fewer EVs in part because they fear for their safety at public charging stations, which often are located in garages and other poorly lit places. Journalists can illuminate how the climate crisis relates to gender inequality by interviewing the women and girls experiencing these realities in their daily lives.
The UN, World Bank, and independent analyses have long made the same dismaying points Bhutto articulates in her Guardian piece, but solutions are also part of the story. For International Women's Day earlier this month, Reuters highlighted 25 of the world's leading female climate "trailblazers." The list of heavy hitters includes the Bahamas's prime minister, Mia Mottley, whose searing attack on rich countries for failing the Global South, and her plan to radically revamp climate funding, made headlines at COP27; Brazil's new environment minister, Marina Silva, who has pledged to dramatically reduce deforestation in the Amazon, as she succeeded in doing when holding that job 15 years ago; and Germany's climate secretary, Jennifer Morgan, who helped make the historic loss and damage fund a reality at COP27.
The need for solutions and justice — and achieving them quickly — was a core message of the IPCC report. Journalism that focuses on women and girls addresses all three of these needs at once. Let's do more of it.
From us
CCNow Q&A. Nico Lauricella, founder and editor-in-chief of the new climate journalism site Heatmap News, talks about his vision for the outlet, bringing new editorial voices onto the team, and how his non-climate background is helping him see the beat differently. Read it at Columbia Journalism Review.
Super solutions. For this year's Earth Day, April 22, we're encouraging journalists to kickstart reporting on "Super Solutions" — climate fixes that are likely to deliver the greatest impact, the fastest. See our recommendations.
Book of the Week
Reading books deepens climate coverage and helps identify book excerpts and authors to interview. 
Not Too Late: Changing the Climate Story from Despair to Possibility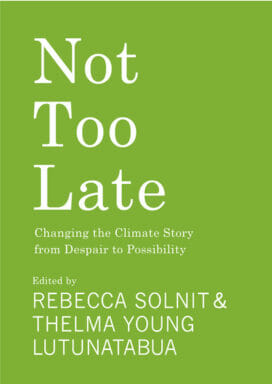 Edited by Rebecca Solnit and Thelma Young Lutunatabua
The goal of Not Too Late is found in its subtitle. Most of this anthology's contributors are women, and activists, including co-editors Rebecca Solnit and Thelma Young Lutunatabua. Their main message: Individuals alone can do little to prevent climate breakdown — but by joining with others, they can literally change the world. Journalists may find especially useful the book's "extremely incomplete list of climate victories" and an insider's account of how Global South activists and governments inserted the 1.5-degrees Celsius target in the 2015 Paris Agreement. Publication date: April 4.
Newsworthy
A new era? The UN adopted a historic resolution calling on the International Court of Justice to strengthen polluting countries' legal obligations to fight the climate crisis. The initiative was led by the Pacific island nation Vanuatu, whose prime minister called it "a win for climate justice of epic proportions." By Nina Lakhani at the Guardian…
California 1, Big Oil 0. Lawmakers in California voted to penalize oil companies for price gouging, becoming the first US state to do so. "I hope this is a signal to other states," said California Governor Gavin Newsom, who will sign the bill into law on Tuesday. By Maggie Angst and Lindsey Holden at The Sacramento Bee… 
Exxon's critics hacked. A massive hacking operation infiltrated the online accounts of ExxonMobil's critics after they met in 2016 to strategize boosting public awareness of the oil giant's climate lies. Court records show thousands of individuals and organizations were targeted, including the Rockefeller Family Fund, Greenpeace, 350.org, and Public Citizen. ExxonMobil denies involvement. By Christopher M. Matthews at The Wall Street Journal…
Ok, doomer. People increasingly believe that the climate crisis won't be solved in time for humanity to save itself. "Many of us climate scientists have spent more time arguing with the [climate] doomers than with the [climate] deniers," said Zeke Hausfather, a contributing author to the UN IPCC report. (Editor's note: An antidote? More climate solutions coverage.) By Shannon Osaka at the Washington Post…
Light sweet crude. For its new podcast season, Drilled heads to Guyana, the South American country where, in 2015, ExxonMobil discovered oil that could soon make up 25% of the corporation's total production output. Investigative journalist and Drilled host Amy Westervelt uncovers the backstory and "what oil colonialism looks like in the 21st century." Listen at Drilled… 
Kudos
Climate correspondents. US network television coverage of the climate crisis improved last year due largely to the work of dedicated climate correspondents, including ABC's Ginger Zee, CBS's Ben Tracy, and NBC's Anne Thompson, reports Media Matters.
Events
IRA. The Yale Center for Environmental Communication is holding a panel discussion on Americans' understanding of the Inflation Reduction Act and how to better communicate the law. March 31. RSVP.
Mental health. The UC Center for Climate, Health and Equity is convening experts to talk about justice and mental health, sea level rise, food systems, and communication for health professionals. April 12. RSVP. 
Polycrisis. What is the "global polycrisis" and how should journalists be covering it? Earth Journalism Network will examine what this newly popular term means, why it's important, and how reporters can uncover story ideas. April 18. RSVP.
Journalism conference. The International Journalism Festival, held in Perugia, Italy, and streamed online, is holding a number of climate-themed panels, mostly in English, such as "climate impacts in every story." April 19-23. Learn more. 
Ethics. The Center for Journalism Ethics will hold an online and in-person event on "Ethics, Urgency & Climate Journalism" on April 28. TIME senior correspondent Justin Worland will give the keynote address. RSVP.
Jobs, Etc.
Jobs. WITF in Harrisburg, Penn., which is interested in fusing climate across newsroom beats, is hiring a State Capitol reporter. Grist is looking to hire two regional reporters — one in Michigan and the other in Illinois. The Sweaty Penguin is looking for two college journalism and social media fellows.
Climate class. Applications for the fourth cohort of the Oxford Climate Journalism Network are now open. The selected journalists will join an online course from July to December. The application deadline is April 4. Learn more.