Sign up to receive our weekly newsletter
Humanity received a "final warning" Monday from the UN Intergovernmental Panel on Climate Change. The bottom line of the Synthesis Report of the IPCC's Sixth Assessment Report is to "act now, or it's too late," the Guardian wrote. The scale of the emergency screams out from almost every page — climate change is already displacing and killing millions of people globally — but the report also provides what UN Secretary-General António Guterres called a roadmap for defusing the "climate time bomb."
Journalists can help the public and policymakers alike to navigate that roadmap. We can also spotlight decisions and actions that would send humanity in the wrong direction. This will require treating the IPCC report as much more than a one-day story. To do that, the report's key findings — which Covering Climate Now has translated into plain English — should inform all of our coverage going forward, especially coverage of solutions.
Indeed, solutions is a major theme of the report, as are justice and speed. Humanity has in hand most of the know-how and technologies required to achieve "a livable, sustainable future for all," said IPCC chair Hoesung Lee, but our window for implementing them "is rapidly closing." We must act today, not tomorrow. And fairness is paramount. Almost half of the world's population lives in places that are "highly vulnerable to climate change," the report said, where "deaths from floods, drought, and storms [have been] 15 times higher" than elsewhere.
What's lacking, the report makes clear, are not viable and economically attractive solutions to the climate emergency but political and economic leaders who will implement those solutions. Here, accountability journalism can make a real difference.
Most of the world's governments now claim they are committed to building a climate-friendly future, as do many corporations. Far fewer walk that talk. (See this fascinating summary of how Saudi Arabia and other petro-states sought to dilute the text of IPCC report's "Summary For Policymakers," which, unlike the scientific report, governments must approve.) The US and China have recently expanded fossil fuel production. ExxonMobil, Saudi Aramco, and other big fossil fuel companies still plan to sell much more of their product for decades to come. Journalists can serve the public interest — and add heft to our coverage — by pressing powerful actors to explain how their actions square with the scientific imperative of rapidly phasing out oil, gas, and coal.
Some of the initial coverage of the IPCC report was excellent — including these stories by the Washington Post, the Guardian, PBS NewsHour, and Agence France-Presse. But too many outlets are still prioritizing feel-good celebrity stories even as humanity faces an emergency that, as Guterres said, is hitting "everything, everywhere, all at once."
The climate story is only going to get bigger. Let's take this "final warning" from scientists as a good time to shift our journalism into higher gear as well.
From Us
IRA reporting. Last week, CCNow held a press briefing with three experts on the economic and social justice opportunities from implementing  the Inflation Reduction Act. See the event recording and transcript, as well as key resources, including a database tracking new clean energy projects. Take me there.
Noteworthy Stories
Water crisis. Billions of people lack access to safe drinking water, and climate change is making things worse, according to a new UN report. Roughly 10% of the world's population lives in countries with "high or critical water stress." (The UN Water Conference will close with a press conference on March 24.) By Edith M. Lederer at the Associated Press…
Rockers. On Tuesday, activists across the US sat in rocking chairs and blocked entrances to the four biggest US banks urging them to stop funding fossil fuel companies. The protests were organized by Third Act, which encourages people aged 60 plus to engage in climate activism. Its founder, Bill McKibben, said, "If we can get the banks to shift, that would probably have more global impact than getting Congress to shift." By Maxine Joselow at The Washington Post…
"Climate homicide." Two legal experts argue that US fossil fuel companies should be held liable for "climate homicide" in US courts, in a new paper to be published next spring by the Harvard Environmental Law Review. Oil companies, they write, "have not simply been lying to the public, they have been killing members of the public at an accelerating rate, and prosecutors should bring that crime to the public's attention." By Lesley Clark at E&E News…
Severe drought. In the past year, 43,000 people, half of them children under the age of five, have died in Somalia due to severe drought, according to a new report. As countries in the horn of Africa face a sixth failed rainy season, the report states that the hunger crisis — made worse by climate change and conflict — is "far from over." From CBS News…
Food forest. A community-created food forest planted decades ago in the third warmest US city, Tucson, Ariz., is providing food and shade for its residents. The project, considered a model for urban areas dealing with higher temperatures, drought, and food insecurity, is inspiring other communities around the world to take similar actions. By Samuel Gilbert at the Guardian…
Book of the Week
Reading books can deepen your climate coverage and identify book excerpts and authors to interview.
The Big Myth: How American Business Taught Us to Loathe Government and Love the Free Market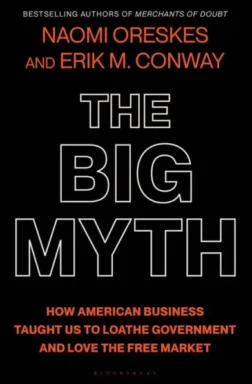 Rapidly phasing out fossil fuels can only happen if governments implement strong laws and regulations. But that has been an uphill battle, largely because of what Naomi Oreskes and Erik M. Conway call "the big myth" — that the "best way to address [society's] needs … is to let markets do their thing." Oreskes and Conway's 2010 book, Merchants of Doubt, revealed how fossil fuel companies lied for decades about science to forestall government action to address the climate emergency. Their new book spotlights the myth at work — and implicitly warns journalists that markets alone will never solve this problem. Excerpts from the book have run in TIME, DeSmog, and the Harvard Gazette.
Kudos
PBS NewsHour gave the new IPCC report the coverage it deserved. It led its nightly broadcast on Monday with the report, and was the only program to interview a climate scientist, according to Media Matters.
CNN ran three segments and two headline reports on the IPCC's conclusions. "We are committing suicide by fossil fuels and the amount of effort and speed it will take to head off the worst disasters is stunning," said the network's chief climate correspondent, Bill Weir, who went on to discuss climate solutions.
Events & Resources
Water & food. The UN World Food Programme will discuss the critical linkages between water and food security at the 2023 UN Water Conference. March 24. Learn more.
US Farm Bill. The Society for Environmental Journalists has a new "Issue Backgrounder" on the environmental and climate implications of the US Farm Bill that Congress is debating. Civil Eats published a comprehensive explainer.
Industry News
Local journalism. The Center for Cooperative Media surveyed residents of three New Jersey towns where most local news outlets have closed and found that people are looking for more "service journalism, in the form of information about municipal government meetings or contact information for local leaders." Read more. 
Jobs, Etc.
Jobs. Grist is looking to hire two regional reporters — one in Michigan and the other in Illinois.
Fellowship. Arena for Journalism in Europe is offering fellowships for journalists who have cross-border and investigative climate story ideas. Apply by March 24. Learn more.
Climate class. Poynter's Beat Academy is offering a course on "how to identify the climate change related risks in your area, and how to compare the local protective measures underway to those in other locations." April 6, 13, and 27. Learn more.