Sign up to receive our weekly newsletter
In direct contradiction to climate science and his own campaign promises, US president Joe Biden approved the massive Willow oil project in Alaska this week. Much of the resulting news coverage has framed the decision as Biden vs activists, but it's really Biden vs science. Yes, activists vehemently oppose the project, but activists are only channeling what science says.  And science says that humanity's climate survival demands phasing out fossil fuels, fast, not extending them.
Unless countries stop building new fossil fuel infrastructure and begin decommissioning nearly half of existing production sites, the world will blow past the internationally agreed target of holding global temperature rise to 1.5 degrees Celsius, the International Energy Agency has declared. The UN International Panel on Climate Change, which will release its Synthesis Report of the Sixth Assessment Report next Monday, agrees. "It's now or never, if we want to limit global warming to 1.5 degrees C," IPCC author Jim Skea said last year. Beyond that 1.5-degree-C threshold, humanity will experience increasingly more severe and potentially irreversible climate impacts, including extreme heat, wildfires, flooding, and more. The Willow oil project, if it survives the lawsuits that environmental groups are already filing, could produce more than 600 million barrels of oil over the site's 30-year lifetime.
This is vital context for understanding the full implications of Biden's decision. What activists have to say is important to report, of course, as are the pro-Willow positions of many of Alaska's elected officials and some, though by no means all, of its Indigenous peoples. But reducing this historic decision to a squabble between a president and activists misses the point.
Biden's approval of the Willow project came as the IPCC was meeting to adopt its first comprehensive climate report in nine years. The report "could not come at a more pivotal time," UN Secretary-General António Guterres told the assembled scientists, adding, "We are at the tip of a tipping point. But it is not too late…. Your report last year clearly demonstrated it is possible to limit global warming to 1.5 degrees with rapid and deep emissions reductions across all sectors of the global economy." The IPCC's report will be released on Monday, March 20, at a live-streamed press conference. (Registration closes at 7pm US Eastern Time on Thursday, March 16.)
Biden's decision is not the end of the Willow story. Some themes worth exploring in the coming days and months include Biden's legal and political calculations, the plausibility of the lawsuits filed against the project, how the international community is responding, the environmental implications of the drilling in an area that is warming four times faster than the rest of the world, and yes, how activists are responding. And as this story continues to unfold, let's not forget: It's science that counts, and science doesn't compromise.
From Us
Earth Day. We're encouraging journalists to kickstart reporting on "Super Solutions" — climate fixes that are likely to deliver the greatest impact, the fastest — this Earth Day, April 22. See our recommendations 
Resources. CCNow's new resource hub includes guides for reporting on climate. Are there resources, such as explainers and reporting guides, that would help in your reporting on climate? Email editors@coveringclimatenow.org and let us know.
Noteworthy Stories
Broken. Last weekend, a long-neglected levee was breached in Pajaro, Calif., leaving the entire town underwater. There are over 13,000 levees in California, many of which are being weakened due to age, neglect, rodent infestations, and the impacts of climate change. By Susanne Rust and Ian James at the Los Angeles Times…
In its latest report card, the American Society of Civil Engineers gave the US's flood control infrastructure — dams and levees — a "D." The Association of State Dam Safety Officials reports on the condition of dams and levees by state here.
New chief in town. In a first for a US state, Massachusetts has hired a climate chief. Melissa Hoffer holds a cabinet-level position and is responsible for ensuring that climate action is taken at all levels of government, rather than just in a few specialized state agencies. By Sabrina Shankman of The Boston Globe…
Better credit. Verra, the world's largest carbon credit certifier, will phase out their current rainforest offset program in July 2025 after an investigation by the Guardian, the German weekly Die Zeit, and SourceMaterial found that "90% of of its rainforest offset credits do not represent genuine carbon reductions." The non-profit is currently working on a replacement program. By Patrick Greenfield at the Guardian…
Indigenous water rights. On Monday, the US Supreme Court will begin oral arguments in Arizona v. Navajo Nation, a high-profile case which could determine what's next for the Colorado River's dwindling water-supply. The Navajo Nation will argue that the federal government is required to provide tribes with adequate water supply under the 1868 Treaty that established the Navajo Reservation. By Virginia Gewin at Civil Eats…
Climate connection. A new study published in Nature finds that there's been a sharp increase in extreme drought and rainfall over the past two decades. The researchers, who used NASA satellite data, say the intensity of droughts and rainfall are linked to climate change. By Isabella O'Malley at the Associated Press…
Book of the Week
Reading books can deepen your climate coverage and identify book excerpts and authors to interview.
The Insect Crisis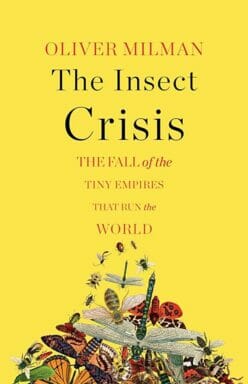 Guardian environment reporter Oliver Milman offers a fresh angle on climate science with his book, The Insect Crisis: The Fall of the Tiny Empires That Run the World, which is being released soon in paperback. Without ants, bees, flies, beetles, and a multitude of other antenna-bearing creatures, humans would quickly starve — and under putrid conditions, as garbage, feces, and cadavers would no longer be repurposed as insect food. Climate change, along with pesticides and land clearing, is crashing insect populations worldwide — another sign that continued fossil fuel development courts catastrophe.
Free to Publish
The following stories deserve special consideration for republication by CCNow partners:
For partner outlets: The full list of stories available for republication and instructions to do so can be found in our Sharing Library. To submit stories for sharing, please use this form.
Events & Resources
Greenwashing. Clean Energy Wire is holding a webinar, "Reporting on net zero targets: How to tell real ambition from greenwashing," on March 23. RSVP. 
Kids & climate. The APHA Center for Climate, Health and Equity will hold a webinar on the disparities in how climate change impacts children's health and launch its new "Climate and Health Youth Education Toolkit." March 24. RSVP.
Climate solutions. For each US state, Climate Central tracks progress on carbon emissions reduction, top emitting sectors — electric power, transport, industry, and agriculture — and key climate solutions. Check it out. 
Jobs, Etc.
Jobs. CNN is looking for an editor, extreme weather. Atmos Magazine is hiring a climate editor. The Boston Globe is looking to hire a climate reporter.