An overheated planet is "even more frightening than a nuclear war," US president Joe Biden said on Sunday in a remark that's gotten less news coverage than it deserves. Responding to a question from Agence France-Presse White House correspondent Aurelia End following Biden's visit to Vietnam, the president added that if global temperatures over the next 10 to 20 years exceed 1.5 degrees Celsius above pre-industrial levels, "There's no way back from that."
Coming from the leader of the world's foremost climate and nuclear superpower, that is a momentous statement that cries out for journalistic attention and scrutiny — which news organizations have the opportunity to apply next week as Biden and other heads of state and government descend upon New York City for the annual UN General Assembly meeting September 18 and 19, followed by the UN Climate Ambition Summit on September 20.
There is particular drama attached to the Climate Ambition Summit. UN Secretary-General António Guterres has declared that only nations with "credible, serious and new climate action and nature-based solutions that will move the needle forward and respond to the urgency of the climate crisis" will be allowed to participate. That stipulation has reportedly caused British prime minister Rishi Sunak to take the highly unusual step of not attending any of the UN meetings. The Guardian reported that Sunak was privately warned that Britain's climate record, including Sunak's decision this summer to "max out" oil and gas production in the North Sea, would exclude him from the summit. So, rather than risk that embarrassment, Sunak's deputy prime minister will come to New York in his place.
Which raises a question that journalists in the US, China, and elsewhere can explore: Will Biden, Chinese president Xi Jinping, and leaders of other big polluters be permitted at the Climate Ambition Summit? Are those countries' climate policies and achievements truly in line with a 1.5-degree-C future? That would require cutting global emissions roughly in half by 2030, a mere seven years away. And there are questions for the secretary-general as well. Most climate experts would say — and journalists, to be sure, can explicitly ask them — that the US and China are not on track for a 1.5-degree-C future. In that case, is the secretary-general really prepared to exclude the two most powerful countries on earth from his climate summit?  Who will blink first?
Meanwhile, civil society voices also deserve a hearing. Four years ago this week, Greta Thunberg and her global Fridays for Future movement put six million people in the streets to demand immediate, ambitious climate action. That outpouring of mass sentiment led governments around the world to take climate change more seriously, even if their actions still don't match the urgency of the crisis. The protests also contributed to mainstream news organizations finally breaking their climate silence, even if their increased coverage also doesn't yet match the urgency of the moment. A fresh round of climate protests is scheduled for this Sunday, Sept. 17. Journalists should be there.
From Us 
CCNow awards. We'll be announcing the winners of the 2023 Covering Climate Now Journalism Awards on Monday, September 18. 
The documentary winner will be announced at "Up2Us2023: A Better World is Possible," an event hosted by the New York Society for Ethical Culture featuring a line up of esteemed guests who are changing the climate conversation. September 18. In-person and online. RSVP.
Climate week. This year's Climate Week NYC, which runs September 17-24, will include about 400 events and activities across the city — in person, hybrid, and online — bringing together international figures from business, government, civil society, and the climate sector. There's plenty of reporting fodder for journalists, with information for the media available here.
Climate Changes Everything. Join leading journalists for a two-day conference, September 21 and 22, at Columbia Journalism School in New York City. A preliminary agenda for the conference, which features panels and workshops, as well as special guest interviews with White House National Climate Advisor Ali Zaidi and former UNFCCC Executive Secretary Christiana Figueres, is now live. This free conference is co-hosted by CCNow, Columbia Journalism Review, The Nation, the Guardian, and Solutions Journalism Network. Working journalists will receive priority in registration. Apply to attend. The space is nearly full, so grab a seat NOW before in-person registration closes! Note, you can also register to attend the conference via livestream.
Hurricanes & climate. Read key takeaways, including scientifically vetted text you can use when reporting on hurricanes, from CCNow's recent Talking Shop webinar on making the climate connection with hurricanes. Take me there.
The Finalists: Engagement & Emerging and Student Journalists
We're previewing Covering Climate Now Journalism Award finalists' work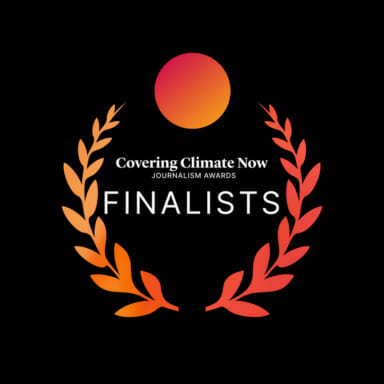 This week, we're looking at the finalists in the engagement category, which includes: The Climate Disaster Project, empowering students to report on marginalized and Indigenous communities in Canada; StateImpact Pennsylvania, starting a texting club to answer audiences' electric vehicle questions; Southerly, helping community members that face climate injustice; and journalism organizations partnering with Indigenous filmmakers in Brazil to document territorial incursions. See the engagement finalists, as well as the work of Emerging Journalist and Student Journalist finalists.
Noteworthy Stories
Peak fossil fuels. The International Energy Agency's head, Fatih Birol, wrote in an op-ed that the IEA projects demand for oil, gas, and coal will peak this decade, earlier than many thought was possible. The shifts "are primarily driven by the spectacular growth of clean energy technologies such as solar panels and electric vehicles, the structural shifts in China's economy and the ramifications of the global energy crisis," Birol wrote. Read it at The Financial Times…
Global Stocktake. The world is not even close to meeting its 2015 Paris Agreement climate goals, finds a new UN report that will be key at the COP28 climate negotiations starting in November. "Much more [action] is needed now on all fronts," the report says, including "scaling up renewable energy and phasing out all unabated fossil fuels," ending deforestation, and lowering methane emissions. By Damian Carrington at the Guardian…
Rising worry. This summer's extreme weather is causing more Americans to say they're worried about man-made climate change — now about two-thirds of the US population — and want to know how they can help solve the problem, says Anthony Leiserowitz, founder and director of the Yale Program on Climate Change Communication. "Every single person has a superpower to address this issue, and that is to talk about it," Leiserowitz said. Interview by Alisa Chang at NPR…
Climate gaming. Lil Milagro Henriquez, a gamer and founder of the Northern California youth climate nonprofit Mycelium Youth Network, uses a climate-themed Dungeons and Dragons game to help kids understand climate change. Her approach empowers students to connect, dream up creative solutions, and tackle the climate challenges ahead. By Daisy Simmons at Yale Climate Connections…
Hidden risk. In July 2022, amid extreme heat in Phoenix, Ariz., Stephan Goodwin, a 33-year-old man with schizophrenia, began a dangerous journey carrying a drawstring bag with a pillow, two guns, and a gallon of water. After wandering for over 24 hours, he succumbed to the heat. His story underscores the lethal threat posed by rising temperatures to individuals with mental illnesses like schizophrenia. By Shannon Osaka, Erin Patrick O'Connor, and John Muyskens at The Washington Post… 
Where are the parents? A mother-daughter duo of climate activists writes, "We're frustrated that all too many adults watch the youth — their children and their children's friends — fight to save the world from climate chaos while they act as if nothing is wrong or there is nothing they can do about it." Parents should show up "not just at their [kids'] sporting events and graduations, but also in this critical moment for their futures," Helen Manzini and Eliza Clark write in Teen Vogue…
Book of the Week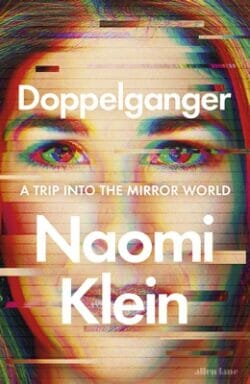 Doppelganger: A Trip Into the Mirror World by Naomi Klein
Author and activist Naomi Klein came to international acclaim with her 1999 takedown of corporate rule, No Logo, and the accelerating climate crisis led her to write This Changes Everything in 2014. Now, Doppelganger explores misinformation online, where Klein is often confused with Naomi Wolfe, a former Al Gore adviser turned right-wing conspiracist. But questions of self also drive the global environmental crisis, as modern societies presume that Nature must accommodate whatever our economic or political systems demand. Humans, an Australian scientist tells Klein, urgently need to stop thinking that we are "the center of the universe. This world wasn't made just for us." Publication date: September 12, 2023
Events
Coverage idea. Ahead of the UN Climate Ambition Summit on September 20, the March to End Fossil Fuels will take place in New York City to "demand President Biden take bold action to end fossil fuels." September 17. 
Climate journalism. The Penn Center for Science, Sustainability and the Media; the Annenberg Public Policy Center; and Inside Climate News will hold an in-person and virtual discussion on the state of climate and environmental journalism. September 18. RSVP.
Jobs, Etc.
Jobs. Inside Climate News is recruiting a senior editor. New Scientist is looking for a US editor for their New York City office. Canada's National Observer is hiring a managing editor.