Indigenous Peoples
Indigenous Peoples may be the most important—yet most overlooked—climate solution available, according to peer-reviewed science.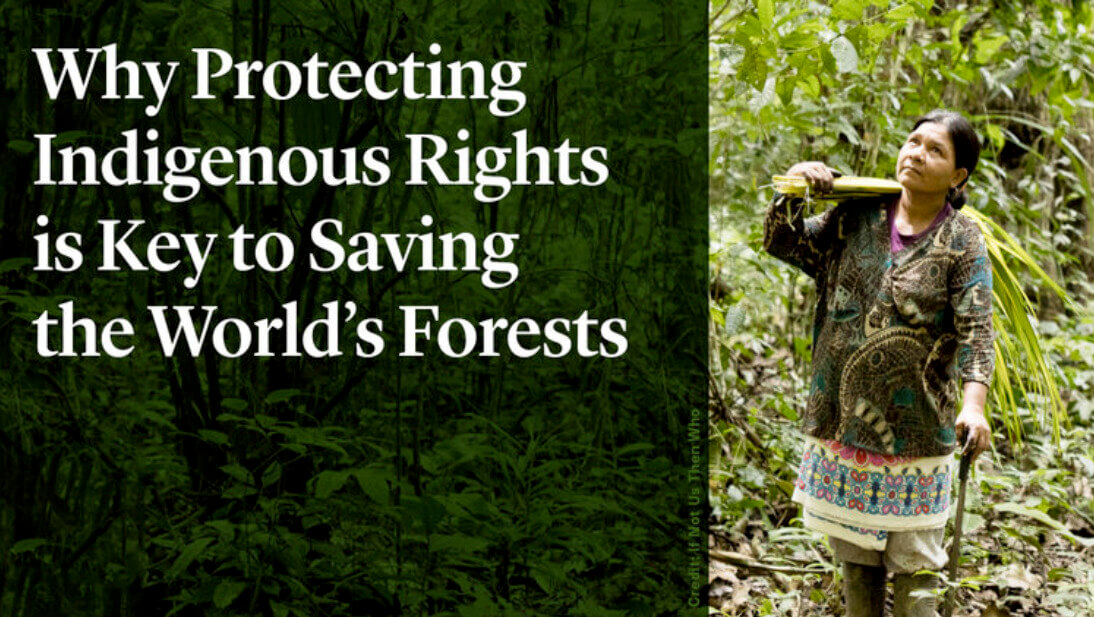 Ahead of Earth Day, a global alliance of Indigenous Peoples representing communities from Brazil, Indonesia and Mesoamerica present local case studies illustrating what independent scientists have confirmed: saving the world's forests requires protecting the rights of Indigenous Peoples, who are the best guardians of those forests.
This press briefing is sponsored by Covering Climate Now, a global partnership of more than 400 news outlets, which is coordinating a week of climate solutions coverage from April 19 to 26.
Read the press release.
Media Inquiries
Wanda Bautista: wbautista@burness.com; +1 302 233 5438, Skype: Massiell1406
Coimbra Sirica: csirica@burness.com; +1 301 943 3287, Skype: CoimbraSirica
Spokespeople
Please reach out to Wanda Bautista and Coimbra Sirica (see above) to schedule follow-up interviews with participants. The event was hosted by Kyle Pope, Editor and Publisher of the Columbia Journalism Review, who is also available for comment.
Levi Sucre Romero is a BriBri indigenous person from Costa Rica and the Coordinator of the Mesoamerican Alliance of Peoples and Forests (AMPB). The AMPB is an alliance of 10 grassroots indigenous and local community organizations managing more than 50 million hectares of forest across the region, from Mexico to Panama.
Mina Setra is a Dayak Pompakng indigenous person from West Kalimantan, Indonesia, and the deputy secretary-general of the Indigenous Peoples' Alliance of the Archipelago (AMAN). The social movement brings together 17 million Indigenous People from across the Indonesia archipelago with more than 2,200 communities.
Dinamam Tuxá is a Coordinator of the Articulation of the Indigenous Peoples of Brazil (APIB) and Legal Adviser to the Articulation of Indigenous Peoples and Organizations of the Northeast, Minas Gerais and Espírito Santo (APOINME). Dinamam is a lawyer and indigenous social activist acting in various fields: youth, the environment, and in matters of indigenous land demarcations.
People available for comment
We also have scientists and researchers listed below available for follow up conversations. Please reach out to Wanda Bautista and Coimbra Sirica (see above) to schedule.
Vicky Tauli-Corpuz, is the UN Special Rapporteur for the Rights of Indigenous Peoples. She is an indigenous leader from the Kankanaey Igorot people of the Cordillera Region in the Philippines. Is a social development consultant, indigenous activist, civic leader, human rights expert, public servant, and an advocate of women's rights in the Philippines.
Peter Veit is Director of the Land and Resource Rights initiative at the World Resources Institute. He has conducted research and written on community-based natural resource management, environmental decentralization, environmental advocacy, and other environmental accountability matters.
Wayne S. Walker is Director of the Carbon Program at the Woods Hole Research Center. An ecologist and remote sensing specialist by trade, he is interested in applications of satellite imagery to the assessment and monitoring of temperate and tropical ecosystems at regional to global scales. His research focuses on measuring and mapping forest structural attributes, land cover/land use change and terrestrial carbon stocks in support of habitat management, ecosystem conservation and carbon-cycle science.
Alain Frechette is Director of Strategic Analysis and Global Engagement at the Rights and Resources Institute. He has over 25 years of experience in natural resource management, biodiversity conservation, and climate change—focusing on international development for the better part of the last two decades.
Carmen Josse is Director of Science at Fundacion EcoCiencia. Her research focuses on producing and managing biodiversity information and evaluating ecosystems throughout Latin America to support the planning and management of conservation policies.
Reports and peer-reviewed studies
A growing body of evidence suggests the conservation groups, governments and corporate actors that have committed to addressing climate change and biodiversity loss will fall short or meeting their goals, unless they partner with the Indigenous Peoples and local communities who manage the world's most forested and biodiverse landscapes.
B-roll and photography
The nonprofit organization If Not Us Then Who (INUTW) is making available a database of b-roll and photography assets featuring the indigenous communities represented by the leaders in the briefing.
Contact INUTW Executive Director Paul Redman to license the assets below for free at paul@ifnotusthenwho.me.
---
Climate solutions b-roll
This clip reel is a condensed archive of indigenous and traditional communities as they engage in preserving their forests, their traditions and working towards a future where their rights are recognised and their lands play a part in the crucial mitigation of climate change.
---
Forest goods b-roll
A catalogue of indigenous and traditional practices demonstrating the vast usage of materials from the forest. This shows not only a rich cultural significance to the forest and nature, it also demonstrates that where there are indigenous and traditional peoples, there is a rich and diverse array of biodiversity.
---
People and communities b-roll
A range of clips looking at communities and the people who exist in the world's tropical forests. From indigenous to traditional communities this clip reel shows their homes, their activities, their ways of life.