Burning Questions: Social Media Toolkit
Help us spread the word about a new documentary from Covering Climate Now coming in October!
Burning Questions: Covering Climate Now
October 25, 2022 @ 8pm ET/7pm CST
Burning Questions: Covering Climate Now reports on the global impacts of climate change through the eyes of award-winning climate journalists.
The special, announced Sept. 19, in conjunction with the kick off of Climate Week NYC, explores the most burning question of all: Will humanity act in time to save itself?
Extraordinary journalists report on stories of struggle and resilience from around the world as families from Senegal to Iowa and Colorado to Samoa lose everything they care about to drought, fire and rising seas. Co-hosted by NBC Today's Al Roker and NBC News' Savannah Sellers, this climate special bringing together work by Covering Climate Now Award-winning journalists explores who is paying the price while world leaders wrangle and corporate interests resist change. To find your local public television WORLD TV station go to worldchannel.org.
We've prepared this social media toolkit to build awareness about the broadcast and to help drive tune-in via social media platforms such as Facebook, Twitter and Instagram.
Here's what you can do:
Thank you for helping us spread the news!
IMPORTANT SOCIAL MEDIA HANDLES
Facebook: @coveringclimatenow
Twitter / Instagram: @coveringclimate
Hashtags: #BurningQuestions #CoveringClimate
---
Suggested Language for Social Posts
Twitter #1
Will we act in time? New #CoveringClimate documentary features extraordinary climate journalists telling stories of struggle + resilience from around the world. Hosted by NBC News' @AlRoker + @WatchSavannah. Watch 10/25 on @WORLDchannel bit.ly/climateburningquestions #BurningQuestions
Twitter #2
[Media Organization Name @handle] is a proud partner of @CoveringClimate Now. #BurningQuestions, a new TV special, airs on PBS @WORLDChannel across the country Oct. 25. Learn more: bit.ly/climateburningquestions
Twitter #3
Mark Your Calendars! #BurningQuestions, a new TV special, airs on PBS @WORLDChannel Oct. 25. Co-hosted by NBC News' @AlRoker + @WatchSavannah, it's a global look at the climate story today, as told by the world's best climate journalists bit.ly/climateburningquestions #CoveringClimate
Instagram
[Media Organization Name @handle] is a proud partner of @CoveringClimate. Mark Your Calendars! #BurningQuestions, a new TV special, airs on PBS @WORLDChannel Oct. 25. Co-hosted by NBC News' @AlRoker + @WatchSavannah, it's a global look at the climate story today, as told by the world's best climate journalists bit.ly/climateburningquestions #CoveringClimate
Facebook
[Media Organization Name @handle] is a proud partner of @CoveringClimate. Mark Your Calendars! #BurningQuestions, a new TV special, airs on PBS @WORLDChannel Oct. 25. Co-hosted by NBC News' @AlRoker + @WatchSavannah, it's a global look at the climate story today, as told by the world's best climate journalists bit.ly/climateburningquestions #CoveringClimate
LinkedIn
[Media Organization Name @handle] is a proud partner of @CoveringClimate. Mark Your Calendars! #BurningQuestions, a new TV special, airs on PBS @WORLDChannel Oct. 25. Co-hosted by NBC News' @AlRoker + @WatchSavannah, it's a global look at the climate story today, as told by the world's best climate journalists bit.ly/climateburningquestions #CoveringClimate
---
Embeddable Promo Video for #CCNow Partners
Downloadable Social Graphics for #CCNow Partners
Twitter, Facebook, LinkedIn (1920 x 1080)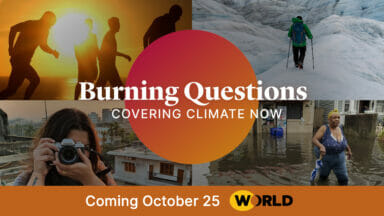 Twitter, Facebook, LinkedIn (1200 x 766)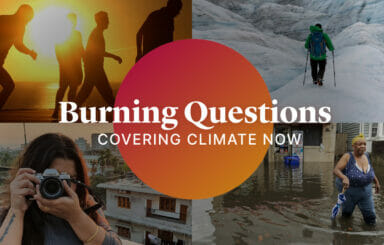 right-click to save images
Instagram (1080 x 1350)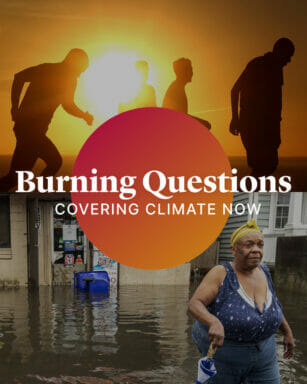 right-click to save images