Donald Trump is not the only one whose legal problems got worse this week. On Monday, four US senators urged US Attorney General Merrick Garland to sue fossil fuel companies for decades of lying about climate change that have "wreak[ed] catastrophic damage upon the United States [in the form of] floods, droughts, extreme weather disturbances, and wildfires." Climate litigation is on the rise worldwide, as a new report documents. With more and more citizens and governments alleging criminal conduct by fossil fuel companies, climate change is no longer only a weather or politics or business story. It's also a crime story.
The number of climate lawsuits has more than doubled over the past five years, according to the report by Columbia University's Sabin Center for Climate Change Law, increasing to 2,180 in 2022. Most of the suits have been filed in the US. But one of the most important cases took place in the Netherlands, and roughly 17% of cases have been filed in Global South countries.
The case with the most far-reaching implications was brought against the Royal Dutch Shell company by environmental groups led by the Dutch branch of Friends of the Earth. "[T]he Hague District Court ordered Shell to reduce its emissions by 45% by 2030, relative to 2019, across all activities including both its own emissions and end-use emissions," reports the Sabin database. In essence, Shell (which is appealing the ruling) was ordered to comply with the Paris Agreement goal of limiting global temperature rise to 1.5 degrees Celsius, which will require slashing not only emissions from its own refineries, offices, etc., but also the vastly larger emissions resulting from the oil and gas it sells customers.
Journalists looking for climate stories can find plenty more of them in the Sabin database. Held v. Montana recently made history by becoming the first youth-led climate case to make it to trial. A decision is said to be imminent, offering a news peg for coverage that can inform audiences about courtrooms becoming a new climate battleground. Multnomah County, Ore., is suing fossil fuel companies and the consulting firm McKinsey & Company for "a scheme to rapaciously sell fossil fuel products" despite knowing that their products would contribute to deadly heat events like the 2021 Pacific Northwest Heat Dome. In Puerto Rico, 16 municipalities are seeking compensation from fossil fuel companies for the damage caused by Hurricane Maria and other powerful storms.
This CBS News piece about Charleston, S.C.'s lawsuit against fossil fuel companies for the sea-level rise imperiling the city provides an excellent model for journalists to emulate. And the four US senators urging the Justice Department to sue fossil fuel companies — Ed Markey and Elizabeth Warren of Massachusetts, Jeff Merkley of Oregon, and Bernie Sanders of Vermont — would likely welcome interview requests.
Audiences love a good crime story. The climate beat is full of them. What are we waiting for?
From Us 
Climate images. Join CCNow for a Talking Shop webinar on "Visualizing Climate Change" next Thursday, August 10, at 12pm US Eastern Time. Gabrielle Fonseca Johnson, South Asia editor for Reuters Pictures, will moderate a conversation with Louis Aguirre, anchor and reporter for Miami's WPLG Local 10; Yadira Hernández-Picó, freelance documentary photographer of Puerto Rico; and Mette Lampcov, freelance documentary photographer based in California. RSVP.
Climate Changes Everything. Join leading journalists and climate experts for a two-day conference — September 21 and 22 at Columbia Journalism School in New York City — to discuss how to cover the climate crisis in ways that drive attention and impact while highlighting solutions and justice. This free conference is co-hosted by CCNow, Columbia Journalism Review, The Nation, the Guardian, and Solutions Journalism Network. Working journalists will receive priority in registration. Apply to attend.
The Finalists: Radio Podcast Series 
We'll be previewing Covering Climate Now Journalism Award finalists' stories over the next few months.
Tune in to this year's Radio Podcast Series finalists! The Australian Broadcasting Corporation introduces us to everyday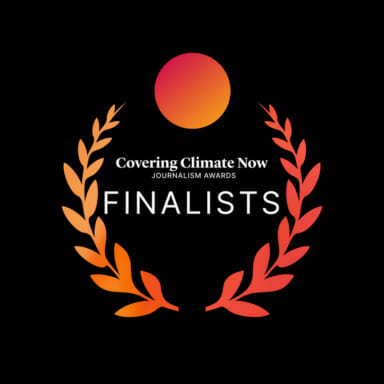 heroes taking action against climate change; Deutsche Welle dives deep into the complexities of the climate crisis and its many solutions; Amy Westervelt's work highlights climate change as a crime story and explores the "rights of nature" legal concept; and Marketplace zooms into one Florida community to tell a larger story of the coastal US. Listen to the radio podcast series finalists.
Noteworthy Stories
Drying up. Historically known for its abundance of water, the Fertile Crescent is rapidly turning to dust. Intensifying climate change, combined with weak governance, poor irrigation practices, and regional struggles over water control are hitting Iraq especially hard. The consequences are dire and serve as a cautionary tale for neighboring countries. By Alissa J. Rubin and Bryan Denton at The New York Times…
"Dangerous radical." UK prime minister Rishi Sunak's stated desire to "max out" production of North Sea oil and gas makes him, in the words of UN Secretary-General António Guterres, a "dangerous radical" pursuing "moral and economic madness." This story examines the problems with Sunak's decision to authorize more than 100 new oil and gas drilling licenses. By Damian Carrington at the Guardian…
Climate resistance. Trump's policy allies at the Heritage Foundation have drafted a 920-page plan for the next GOP administration, including rollbacks to environmental and climate policies, starting with the Inflation Reduction Act. By Scott Waldman at E&E News…
"Incredible" progress. Deforestation in the Brazilian Amazon fell more than 60% over the past year, according to the country's environment minister. The improvement comes under the new administration led by Luiz Inácio Lula da Silva, which has implemented measures to protect the rainforest. Next week, Brazil will host a summit of eight countries on deforestation in the Amazon. By Jonathan Watts at the Guardian…
Clocks ticking. We have less than six years before CO2 emissions lock in at least 1.5 degrees C of global heating, a crucial threshold in avoiding some of the worst impacts of climate change. That's according to The Climate Clock, a 62-foot digital clock in New York City's Union Square that reflects scientific data on climate change. By Justine Calma at The Verge…
Solar-powered show. Tonight, in Chicago, singer Billie Eilish's headliner show at the Lollapalooza Festival will be partially powered by a temporary on-site "solar farm." The initiative is part of the Music Decarbonization Project, a campaign supported by Eilish and the environmental non-profit Reverb, which aims to lead the music industry towards a more sustainable future. By Thania Garcia at Variety… 
Kudos 
Here's some great coverage of July's extreme weather.
Media Matters highlights "excellent" recent TV segments in the US that have clearly linked climate change to global heating, including some that held the fossil fuel industry responsible for its role in climate change.
New Report 
Climate attribution. Climate Central's new report, "Worldwide daily fingerprints of climate change during Earth's hottest month," finds that 6.5 billion people, or 81% of humanity, experienced climate-attributed heat in July.
Industry News
COP28 registration. Media accreditation for COP28, the UN climate change conference to be held in the United Arab Emirates starting November 30, is open.
Covering climate. The Reuters Institute's Oxford Climate Journalism Networks has kicked off its new series, "How to Fix Climate Journalism," with an essay about focusing on solutions when reporting climate in coal country and with a second essay about how to answer the question: "Is this disaster related to climate change?"
Jobs, etc. 
Jobs. CBC/Radio-Canada is looking for a senior producer for its climate, health, and science unit. WRKF Baton Rouge Public Radio and WWNO New Orleans Public Radio are hiring a coastal reporter. Oregon Public Radio is recruiting a climate and environment news editor, as well as a food & agriculture reporter/producer and a land & environment reporter/producer. The Sweaty Penguin has two openings: social media manager and audio & video editor.
JIVE Climate. A new live journalism show called "JIVE Climate" is looking for eight journalists from Europe to present their climate solutions stories on stage in Berlin on November 21. The deadline for pitches is August 15. Learn more.