The Associated Press and Grist have launched "Climate Connections," a collaboration focusing on how climate change is projected to affect human health around the world. The two news organizations will co-publish six stories across July and August investigating diseases including malaria, cholera, and tick-borne illnesses — all of which are set to affect more people as the planet warms. The AP and Grist's journalistic leadership is a valuable reminder: Climate change is not just a weather story. Climate change affects, and is affected by, developments on every issue that newsrooms cover, from business and politics to tech, lifestyles, culture, and sports. We journalists are always looking for story ideas; climate change offers a cornucopia of options.
The first story from the AP-Grist collaboration looks at how the shifting climate is expanding mosquitoes' range. Warmer temperatures mean the insects are able to survive at higher elevations; in sub-Saharan Africa, for example, mosquitoes are moving up at a rate of 21 feet per year, thereby significantly increasing the potential number of victims of malaria. The extreme heat that's afflicted much of the world in recent weeks is a more immediate illustration of the health dangers of uncurbed climate change. This week, World Weather Attribution found that the heatwaves that blasted the US, Mexico, and southern Europe in June and July would have been "virtually impossible" without climate change, and that the extreme heat in China was made 50 times more likely. Journalists can query public health agencies and hospital emergency rooms to report the resulting sickness and death toll. (For context, last summer's heat waves in Europe killed more than 61,000 people.)
Business reporters can illuminate the titanic struggle climate change is animating between the incumbent fossil fuel industry and ascendant green energy producers. As Chris Hayes pointed out, in 2014, in The Nation, defusing the climate crisis will require fossil fuel companies to give up about $10 trillion in wealth in the form of oil, gas, and coal reserves that must be left in the ground, unburned. They are resisting this mightily: Last week, Saudi Arabia reportedly blocked G20 states from pledging to reduce fossil fuel consumption. Business reporters can count on more such clashes on the way to December's COP28 negotiations, headed by the president of Abu Dhabi National Oil Company.
The politics beat is also ripe for more climate reporting. 2024 will bring elections in the US, the UK, the EU, Mexico, and other countries that will have a profound influence on whether governments will act quickly enough to avoid climate breakdown. News coverage should be examining how voters, candidates, and political parties are, or are not, taking the climate crisis seriously in the lead-up to those elections.
Once you start to look, climate stories are all around us, on every beat in every newsroom. And poll data shows that most people in most countries actually want more news about climate change and especially what can be done about it. As journalists, it's our job to give it to them.
From Us 
Climate Changes Everything. Join leading journalists and climate experts for a two-day conference — on September 21 and 22 at Columbia Journalism School in New York City — to discuss how to cover the climate crisis in ways that drive attention and impact while highlighting solutions and justice. Co-hosted by CCNow, Columbia Journalism Review, The Nation, the Guardian, and Solutions Journalism Network, this free conference is open to all working journalists. Register now.
Emmy nomination. Congratulations to all the CCNow award-winning journalists featured in "Burning Questions: Covering Climate Now." The climate journalism special CCNow produced last year with WORLD has been honored with an Emmy nomination in the Outstanding Recorded New Special category. Watch the special.
Misinformation briefing. In a recent press briefing by CCNow and Climate Action Against Disinformation, a coalition of NGOs tackling mis- and disinformation on climate, journalists learned how to cover a disinformation campaign without amplifying it and explore the spectrum of trends we're seeing today. We've posted key takeaways, resources mentioned, and the video and transcript. Learn more.
The Finalists: Short-form Audio
We'll be previewing Covering Climate Now Journalism Award finalists' stories over the next few months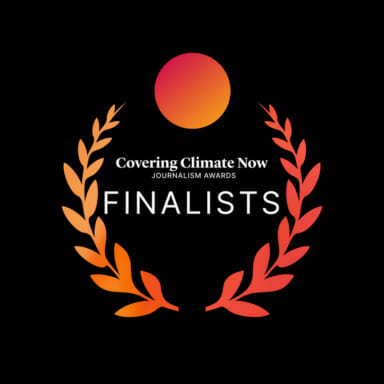 Our short-form audio finalist stories are all less than six minutes, perfectly timed to accompany your morning coffee. Listen to folks with long-term perspective and credibility discuss terrible floods in Kentucky; hear how climate justice and racial justice are one and the same in a California wildfire story; learn the ins and outs of composting in an LAist explainer; and hear the powerful story of a Pakistani family stranded on a rooftop for two weeks during catastrophic flooding. Listen to the short-form audio finalists.
Noteworthy Stories
"Virtually impossible." That's what scientists with World Weather Attribution said the extreme heat that battered North America and southern Europe in June and July would have been without climate change. China's heat was made 50 times more likely. Nathan Rott for NPR…
Ocean collapse. One of Earth's most vulnerable tipping points, the Atlantic Ocean's system of currents, is at risk of collapse within the next few decades, according to a new study published in the journal Nature Communications. The Atlantic Meridional Overturning Current helps to regulate global temperature by cooling warmer water from the tropics, but human caused–global heating has disrupted the current's natural cycle. By Sarah Kaplan for The Washington Post…
"It is hard to fathom what further evidence is needed to persuade governments that a drastic change of course is the safest option," wrote the Guardian's editorial board.
"Turbocharging." The Inflation Reduction Act's historic government investment in clean energy tech has prompted unprecedented escalation in battery and EV manufacturing less than a year after President Joe Biden signed it into law. "When the federal government makes an investment, we get to the tipping point faster," said Siemens USA's CEO. By the AP via NBC News…
"Modernizing" rules. A newly proposed rule by the US Interior Department would significantly increase the cost to energy companies to lease and drill for fossil fuels on federal lands. Reaction has been mixed from people who know that the US must do more to reduce its dependence on fossil fuels. By Chris D'Angelo for HuffPost…
A critical solution. "Accountability isn't just 'a' climate solution, it actually has to be the first one," writes investigative climate journalist and Drilled host Amy Westervelt. Allowing climate disinformation and obstructionism to persist unchecked makes it harder if not impossible for every other climate solution to succeed. Read Drilled's latest newsletter here…
Biden on climate. With nearly 40% of the US under heat advisories, President Biden announced measures on Thursday to help Americans respond to extreme heat. The president did not declare a climate emergency, as he's been urged to do. By Dharna Noor for the Guardian…
Via Twitter
This CBS segment by Ben Tracy makes all the right climate connections:
The extreme heat waves and fires and floods ripping across the planet are climate change in action.

We need to stop burning fossil fuels! pic.twitter.com/WveDbrapJD

— Dr. Leah C. Stokes (@leahstokes) July 26, 2023
Resources & Reports
Heat guide. The Global Heat Health Information Network has published a guide with key considerations and recommendations for reporting better on extreme heat.
Climate data. World Resources Institute and ClimateWorks have released the Climate Data Platforms Explorer to help navigate open climate databases. They also published findings about common trends in topics, usability, and maintenance, with recommendations for researchers, funders, and governments releasing datasets.
Fossil fuel harms. Support for renewables increases when audiences learn about harms caused by fossil fuels, with or without a moral appeal, according to a new study by the Yale Program on Climate Change Communication conducted with the Center for Public Engagement With Science.
Planetary boundaries. Mongabay hosted a webinar about "How to Cover Planetary Boundaries." The planetary boundaries framework describes nine Earth systems in which humans must limit activities to maintain a habitable planet.
Kudos 
PBS NewsHour led its evening show with multiple segments showing extreme heat around the world. Check it out.
Industry News
Extremes everywhere. Carbon Brief's team rounded up coverage of the recent extreme climate impacts affecting much of the world, from record heat in China to floods in South Korea, Japan, and the Philippines to historic wildfires in Canada.
On the beat. Boston Globe climate reporter Sabrina Shankman talks with the News Literacy Project about how the climate crisis is "happening everywhere" and the importance of diligently vetting information you receive as a reporter to protect against amplifying misinformation.
Dangerous heat. After hours spent shooting outdoors in Arizona's recent extreme heat, an AP photographer experienced a health scare when his blood pressure skyrocketed, causing nurses to fear he might have a heart attack. Story of his experience is another caution to journalists to be attentive to the possible health impacts of covering climate in the field.
Jobs, etc. 
Jobs. Post Script Media, Inc. is seeking a reporter focusing on climate tech stories. Grist, in partnership with Chicago Public Media, is hiring a Regional Reporter to cover energy, the environment, and climate. The Pulitzer Center accepts applications for their 'Deep Dives: Oceans and Fisheries Reporting' grant on a rolling basis.
Workshop. Apply to attend 'Covering Climate Change Science and Policy in a Polarized World,' a one-day workshop held by the RAND Corporation, in Arlington, Va. Deadline is August 14. Apply now.
COP28 fellowship. Climate Tracker is offering two in-person and two virtual fellowships to cover COP28 in Dubai, from November 30 – December 12 to African journalists from 18-35 years old. Apply by August 3.