Sign up to receive our weekly newsletter
Deadly heat across Europe shattering temperature records. Firefighters battling intense wildfires across Southern Europe and the US. One hundred million Americans under heat warnings and advisories. A heatwave on the horizon for central Asia. The world is consumed by extreme heat driven by climate change, which is unfolding faster than expected and leaving climate scientists shocked.
These breathtaking events led the UN Secretary-General António Guterres to warn on Monday that humanity is facing "collective suicide" if we "continue to feed our fossil fuel addiction." US president Joe Biden on Wednesday said that "climate change is an emergency," though he did not formally declare climate change a national emergency.
As the media scrambled to report on extreme heat this week, they did a better job at conveying what the science says — that this is climate change in action — than has historically been the case. But many stories missed making the climate connection. Some 32% of segments and weather reports on US national TV networks, from July 16 to 18, connected the heat to climate change, according to Media Matters. That's a big increase from last summer, when only 4% of network stories about Hurricane Irma mentioned climate change. Still, the 32% figure means that two out of three heat stories missed the point.
The portrayal of extreme heat by some in the media as "fun in the sun," rather than the climate disaster that it is, led to protests this week in the UK. On Tuesday, Extinction Rebellion protesters smashed windows at the London headquarters of Rupert Murdoch's media company for his outlets' coverage of the crisis as an upbeat story.
Other news outlets are getting the story right. Here are some helpful takeaways:
Alex Thomson of Channel 4 News in the UK makes the climate connection and reflects its urgency high up in his report on the European heatwave. He says, "Remember that this isn't weather that happened, it was caused by human pollution. Unless we respond, there will be more of this, and more often. That is science, not politics." His linkage to human-caused climate change, the urgency of responding, and the scientific consensus on climate change in just a few words make his story a perfect example of how to report climate and extreme weather.
Emily Shapiro of ABC News in the US, goes beyond what temperatures are forecast to include the expected heat index as well. Scientists say the heat index — what the temperature, when combined with humidity, feels like to the human body — is a better indicator of the intensity of heat and its health impacts. Including it helps audiences know what to expect.
Bob Henson's story for Yale Climate Communication stands out for its use of appropriate climate imagery — a bridge in London swaddled in aluminum foil to protect it from the heat — to convey the seriousness of the heatwave. In addition, when referring to the 2003 European heatwave in his story, Henson includes the correct death toll, which many news organizations have not. Attribution science, which quantifies climate change's role in extreme weather, concludes that 70,000 people died from extreme heat in 2003 as a result of climate change. Check sources such as World Weather Attribution, Climate Signals, and Climate Central's "Climate Shift Index" for the latest attribution science.
Essential stories
What now? Sen. Joe Manchin III (D-W.Va.) joined all Republican senators to come out against hundreds of billions of dollars in new climate spending. Here's perspective on what happened and what's to come. By Robinson Meyer at The Atlantic…
Trees know. The bristlecone pine is the oldest known species of tree on the planet, and it has hard-won wisdom to share about surviving — or not — today's rapidly increasing temperatures.  By Sarah Kaplan at The Washington Post…
You're not alone. Chances are your neighbors are worried about climate change. Talking about local and global climate issues can help make it a priority in people's minds and pave the way for action. Here's how to start a conversation. By Manuela Andreoni at The New York Times…
Natural A/C. Warmer temperatures mean more demand for energy-guzzling air conditioners. Passive cooling — techniques to manage the temperature of a building without using power — can make a world of difference. By Beatrice Christofaro for Deutsche Welle…
Food v. fossil fuels. Mining companies are tearing up fertile soil in the US Midwest to use the sand below in fracking. The mines destroy farmland and pollute the air while communities suffer. By Lisa Held for Civil Eats…
Via Twitter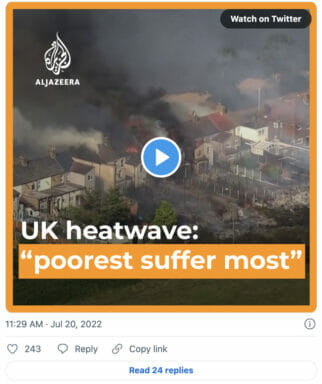 In a piece about the ongoing UK heatwave and fires, Al Jazeera English made clear that the impacts of climate change are being felt unequally. "This is a public health emergency," says Kavian Kulasabanathan, an emergency room doctor. He notes that people who are poor suffer the most from extreme heat. "These are the people at the sharp end of the climate crisis, the economic crisis and least responsible for those things as well."
Free to republish
The following stories deserve special consideration for republication by CCNow partners:
For partner outlets: The full list of stories available for republication and instructions to do so can be found in our Sharing Library. To submit stories for sharing, please use this form.
Resources & events
Happening soon. Today at 3pm US Eastern Time, Climate Central will hold a press briefing on West Virginia v. EPA and the American public's understanding of climate science and impacts. RSVP.
Climate course. The Knight Center for Journalism in the Americas is offering a free multilingual online course on how to cover the climate crisis and fight disinformation.
Sea levels. Global Investigative Journalism Network has a new guide to help journalists report, investigate, and analyze sea-level rise.
Jobs, etc.
Jobs. NPR is recruiting a senior climate editor. USA Today is looking for a fact check reporting fellow and a fact check climate intern. Heated is looking for an enterprise reporter.
Pitches. The Xylom, a non-profit, student-led newsroom based in Atlanta, Ga., is looking for climate pitches.
Fellowships. The Centre for Journalism Innovation and Development is offering a climate change media fellowship. Applicants must be journalists from an English-speaking West African country: Ghana, Sierra Leone, The Gambia, Liberia, or Nigeria.The Religion & Environment Story Project is looking for fellows. Candidates should be US-based journalists or editors.