Sign up to receive our weekly newsletter
Solutions reporting, done right, is essential to good climate journalism. More and more people recognize that human-caused climate change is a problem. Now, they need to understand that there are solutions — many solutions, in fact. News organizations can help their audiences, and themselves, if they bear in mind that good solutions reporting neither cheerleads nor sugar-coats; it interrogates potential solutions to inform the public and policymakers about which ones deliver, and which ones don't.
For example, The Associated Press reported that rooftop solar could meet Puerto Rico's clean energy goals. Citing a US government study, the AP's Dánica Coto reported that renewable sources could supply 40% of the island's electricity by 2025 and 60% by 2040, if sufficient federal funding is provided. Rooftop solar is also less susceptible to extended power outages, like the one that occurred in 2017 after Hurricane Maria left some parts of the island without power for 328 days.
Plain-spoken solutions reporting is both journalistically responsible and commercially beneficial. Audience surveys show that people are increasingly worried about climate change and want to know what can be done about it. Solid solutions coverage provides individuals, communities, and business and government leaders with information they need to make informed choices about what they should do going forward.
Like climate change itself, the solutions aspect of the story can feel overwhelming, but Covering Climate Now has you covered. In collaboration with the Solutions Journalism Network, CCNow has produced the 'Climate Solutions Reporting Guide' to help journalists everywhere report on climate solutions with rigor and integrity. Like the climate story as a whole, climate solutions reporting is for every beat in the newsroom. To that end, our reporting guide outlines how to report on solutions related to politics, business, economics, technology, culture, and how people live and work.
Solutions reporting should not refrain from identifying limits to the solution being examined. The AP's story about rooftop solar again provides a useful example. After summarizing the US government study, journalist Coto quoted "disgruntled Puerto Ricans who questioned the reality of implementing solar panels on an island where more than 40% of the population lives below the poverty line."
To coincide with the reporting guide's release, CCNow invited SJN's Fara Warner and Swati Sanyal Tarafdar to talk about the organization's robust, evidence-based approach and how to apply it to the climate story locally and globally. You can watch the Talking Shop webinar, read a summary, and see the transcript from that event here.
We hope the guide and the webinar help you provide coverage that informs, empowers, and sparks constructive action. Please send any questions or comments you have to editors@coveringclimatenow.org.
From us
Awards. CCNow will open submissions for the 2023 Covering Climate Now Journalism Awards, which will include new categories, on Wednesday, February 1. We'll share more info in next week's Climate Beat, and we look forward to seeing your work.
Noteworthy stories
90 seconds to midnight. That's the new time on the Bulletin of the Atomic Scientists' metaphoric Doomsday Clock, which tracks how close humans are to destroying the world. That's the closest it has ever been, due largely to impacts of the war in Ukraine, which has increased the risk of a nuclear exchange and "hamstrung the world's response to climate change," writes the Bulletin's editor, John Mecklin. [See the Bulletin's deep dive into the climate threat here, and read CCNow's interview with Mecklin, who claims he has the "best job in the world."]
Gore on fire. "We are failing badly" to defuse the climate emergency, said former US vice president Al Gore in a fiery speech at the World Economic Forum. Young activists are right to be angry that the head of the World Bank is a "climate denier" and the president of COP28 is an oil company CEO, he said. "We cannot let the oil companies and the gas companies and the petrostates tell us what is permissible." By Philippe Escande at Le Monde…
Crackdown. The Brazilian government's first raids on illegal loggers and ranchers in the Amazon rainforest have begun under the country's new president, Luiz Inacio Lula da Silva, who vowed to crack down on deforestation. During far-right former president Jair Bolsonaro's time in power, the rate of deforestation increased 60% from the previous four years; an area larger than Denmark was lost during that time. By Jake Spring at Reuters…
'Cop city.' In what may be the first intentional killing of an environmental activist in the US, a Georgia state trooper last week fatally shot Manuel Esteban Paez Terán, who was protesting a controversial planned law enforcement training site in Atlanta. New laws criminalizing protests near oil and gas pipelines, backed by corporate funders, have risen in recent years, as has anti-protest rhetoric. By Kate Aronoff at The New Republic…
Farmers vs. solar. Conflicts between farmers and renewable energy providers are happening around the US and the world, particularly in drought-stricken areas. Events unfolding in California's agriculture-rich Imperial Valley illustrate that, in the era of climate change, figuring out the balance between water conservation, food production, and clean energy will not be easy. By Sammy Roth at the Los Angeles Times… 
Climate trauma. A new study concludes that people who had direct exposure to the destructive 2018 Camp Fire in California experienced persistent changes in their cognitive functions, including more difficulty focusing on simple tasks, a typical symptom of post-traumatic stress. "This is not exactly PTSD," said Jyoti Mishra, a co-publisher of the research. "It's a new kind of trauma." By Joanna Thompson at The Daily Beast…
Events
Deforestation. The Amazon-based journalism outlet Sumaúma and the advocacy organization Mighty Earth are co-hosting a webinar on the potential for Brazil's new government to tackle deforestation and expand Indigenous territory. Journalists only. January 31. RSVP. 
Trauma-aware. The Dart Centre for Journalism and Trauma Europe and Journalismfund.eu are hosting two webinars on climate crisis reporting, trauma, and journalism. Experts will discuss the psychological impacts of the climate crisis and how it affects interviewees (survivors), audiences, and journalists. February 17 and 24. RSVP. 
Book of the Week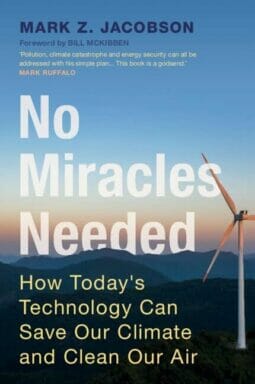 Reading books can deepen your climate coverage and identify authors to interview.
In No Miracles Needed, Mark Jacobson argues that humanity already has 95% of the technologies needed to limit global temperature rise to 1.5 degrees Celsius. The key is to deploy them quickly and stop wasting time and money on nascent technologies that often are pushed by powerful lobbies. Read an interview with Jacobson by the Guardian's Damian Carrington here. Release date: February 2. 
Jobs, Etc.
Jobs. KQED is hiring a digital editor, climate. Carbon Brief is recruiting a section editor focused on policy. The Pulitzer Center is looking for an investigations editor to head its new Oceans Investigations initiative.
Grant. Earth Journalism Network is offering grants for journalists to produce stories on transnational conservation crimes in the Amazon Region and the threats faced by Indigenous peoples and local communities in Brazil, Colombia, Ecuador, Guyana, and Peru. Apply by February 1. Learn more. 
Fellowship. The Metcalf Institute is accepting applications for its science immersion workshop for journalists, focused this year on an equitable clean energy transition. The workshop will be held virtually and in person in Kingston, Rhode Island, in June. Apply by February 6. Learn more.