A Washington Post poll released Monday found that 71% of Americans have heard "little" or "nothing at all" about the Inflation Reduction Act, the centerpiece of the Biden administration's efforts to slash planet-warming emissions by boosting clean energy. The Post piece holds the administration itself responsible for the lack of public awareness, even as it notes that "the president and his top aides have made roughly 120 stops in nearly 40 states and territories to tout their work." So, is it that the administration's not talking enough about its efforts, or the media that's not covering this story enough?
August 16 is the IRA's one-year anniversary, a perfect news peg for journalists to examine how well this landmark legislation is delivering on Biden's goal of cutting US emissions in half by 2030, as scientists say is urgently needed. Speaking in New Mexico on Wednesday, Biden said the IRA had sparked "a clean energy and manufacturing boom" that was creating jobs and putting the US on the path to slash emissions dramatically in the next decade. Reporters, especially local reporters, should scrutinize Biden's claims. How many green energy projects have broken ground in their region? How many jobs have been created? How many emissions will be avoided over the lifetime of those projects?
Such bread-and-butter stories are likely to engage audiences because they're relevant to their daily lives, discussing jobs they or people they know might actually fill. The NGO Climate Power has assembled a searchable database of clean energy projects that are planned or underway thanks to IRA funding and the number of jobs created (roughly 170,000 thus far). Armed with that data, reporters can ask their local chamber of commerce and labor unions what the IRA has done for investment and employment in their region. At the same time, they can check with scientists and climate experts on how big a contribution these IRA projects will make to reducing emissions.
There are also juicy political angles to explore. The IRA passed the US Senate a year ago by the slimmest of margins: All 50 Senate Republicans opposed the measure, requiring Vice President Kamala Harris's tie-breaking vote to secure its passage. House Republicans also voted against the bill. Now, reporters can ask Republicans if they stand by their opposition to the IRA. The juicy part? Some Republicans are trying to have it both ways: bragging to their constituents about the new investment and jobs coming to their districts, but not mentioning that they actually voted against the legislation delivering those jobs and investment.
Accountability journalism can ask these officials to explain themselves. Two examples (and there are many more): Georgia representative Marjorie Taylor Green called the IRA a "bad deal for Georgia" and then turned around and celebrated all the jobs it was bringing to her state.  West Virginia governor Jim Justice called the IRA a "real, real screw-up" despite his team uploading videos of the governor attending ribbon-cuttings for IRA-funded projects.
How well the IRA delivers on its goals will have profound effects on everything from the health of the US economy to the world's chances of avoiding climate breakdown. It's dismaying that so few Americans know much about this historic legislation. But it's not too late to change that.
From Us 
Climate Changes Everything. Join leading journalists and climate experts for a two-day conference — September 21 and 22 at Columbia Journalism School in New York City — to discuss how to cover the climate crisis in ways that drive attention and impact while highlighting solutions and justice. This free conference is co-hosted by CCNow, Columbia Journalism Review, The Nation, the Guardian, and Solutions Journalism Network. Working journalists will receive priority in registration. Apply to attend.
The Finalists: Long-form Writing
We'll be previewing Covering Climate Now Journalism Award finalists' stories over the next few months.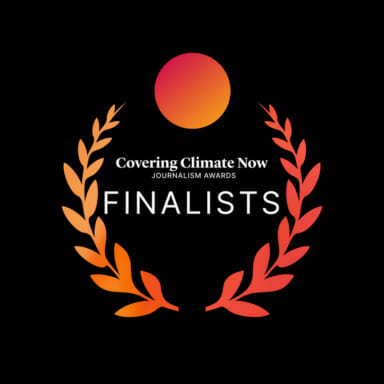 This week, we're highlighting our seven long-form writing finalists: ProPublica and The New York Times Magazine take readers to Barbados, diving deep into a debt crisis fueled by climate change; a Bloomberg reporter travels to remote Mexican villages investigating BP's payments for carbon offsets; Scroll.in reports on broken afforestation promises from the Indian government; the Bureau of Investigative Journalism probes HSBC Bank's climate claims; Fifty Two examines new extreme weather forecasting models in India; Grist looks to the drought-stricken American West for a story of reshaping political identity; and CalMatters sheds light on the mental health crisis experienced by California firefighters. See the long-form writing finalists.
Noteworthy Stories
Hawaii wildfires. Climate change is fueling the deadly wildfires burning on the Hawaiian island Maui. "These grasslands accumulate fuels very rapidly," said Clay Trauernicht, a fire scientist at the University of Hawaii. "In hotter conditions and drier conditions, with variable rainfall, it's only going to exacerbate the problem." By Claire Rush for the Associated Press…
Climate disinformation. Florida has approved the use of videos in public education that reject the reality of climate change, compare climate activists to Nazis, and claim that wind and solar power pollute the planet. Approval of the videos, produced by PragerU, an unaccredited right-wing advocacy organization, is a win for Florida governor and presidential candidate Ron DeSantis, who, like leaders in a number of other Republican-led states, is seeking to overhaul curriculum in climate science, African-American history, and LGBTQ+ issues. By Scott Waldman at E&E News…
New Hampshire will consider adding videos by PragerU to its school curriculum on Thursday, reports the Concord Monitor… 
Safeguarding the Amazon. At a meeting in Brazil, leaders of eight South American countries agreed to what host country Brazil called a "new and ambitious shared agenda" to save the Amazon rainforest. The countries failed to commit to ending deforestation by 2030, due to divisions over extractive industries and urged wealthy nations to help fund protection of a major carbon sink. Read more at Al Jazeera…
Pakistan's floods. A report by Islamic Relief Worldwide highlights the dire aftermath of Pakistan's devastating 2022 floods, particularly on women and children. The report found that 40% of surveyed children in flood-affected areas suffer from stunted growth and 25% are underweight due to limited access to food and healthcare. The report calls for climate justice and compensation from the world's biggest polluters. By Haroon Janjua at the Guardian…
Solar co-ops. The non-profit Solar United Neighbors (SUN) is bringing together homeowners interested in solar rooftops to negotiate bulk deals with solar panel installers to make "going solar" more affordable. Besides lower prices, there are numerous other potential benefits, including SUN's guidance in financing, buying, and installing solar panels. By Nicolás Rivero at the Miami Herald… 
Via X/Twitter: Back to School
There are plenty of climate-related stories to cover as kids prepare to start the school year. We have our eyes on the growth of climate education and disinformation in the classroom, the growing fleet of electric school buses, and more. Check out our thread:
🍏 🎒 It's that time of year that children everywhere dread: back to school. But after this summer of heat, wildfires and flooding, many students may have some questions about climate change. How are schools preparing? Here's some ideas for climate-related education stories. 🪡

— Covering Climate Now (@CoveringClimate) August 10, 2023
Industry News
Rethinking disaster reporting. At Capital + Main, environmental journalist Mark Schapiro writes that reporting on a single climate disaster without linking it to others and making the trend clear "does not provide a full picture that compels a harder look at the system driving them." He suggests connecting the dots between various disasters, emphasizing their ongoing consequences, and identifying those responsible.
Climate protests. Major national TV news networks and the top five US newspapers by circulation provided limited and skewed coverage of disruptive climate protests in the past year, according to a Media Matters analysis. The coverage often concentrated on activists' disruptive tactics rather than their messages urging climate action.
COP28 registration. Media accreditation for COP28, the UN climate change conference to be held in the United Arab Emirates starting November 30, is open.
Jobs, etc.
Jobs. The Associated Press is recruiting a newsperson, climate solutions reporter and an artist, video graphics producer (climate & environment). The Guardian is hiring a commissioning editor, special series (environment). Gannett is looking for a climate change/environmental reporter.
Training. The Poynter Institute is holding a free one-day in-person masterclass to advance journalists' understanding of climate change in Arlington, Va., on August 29. The application deadline is August 14.
Awards. The Fetisov Journalism Awards are accepting submissions for excellence in environmental journalism.