The war between Israel and Hamas is a humanitarian crisis that also jeopardizes much-needed international progress on climate change. As with the war in Ukraine, the new war in the Middle East threatens to spread to other countries, drive world oil prices and inflation higher, and discourage the international cooperation needed to tackle the climate emergency and other global challenges. To raise the stakes further, this war is erupting in a region containing most of the world's oil, which is still the lifeblood of the global economy.
News organizations must, of course, cover the war diligently. But with just seven weeks left before negotiators gather at the COP28 climate summit in the United Arab Emirates, can news reporting also remind the public and policymakers alike that rapidly decarbonizing the global economy remains an imperative for humanity?
A must-read October 7 article in the Guardian spotlights the challenge at the heart of the decarbonization imperative: The fossil fuel industry, as currently operated, is incompatible with climate survival. There are three choices, Fiona Harvey writes: "Oil and gas companies, and the petro-states they prop up, must refocus themselves on renewable energy, or they go out of business. Or we will fry." (Yesterday, ExxonMobil made its choice clear, announcing a $59.5-billion purchase of fellow oil-and-gas company Pioneer Natural Resources.)
Harvey's article profiles the man presiding over COP28, Sultan Al Jaber. The UAE is the world's seventh largest oil producer, and Al Jaber is chief of the UAE's national oil company, ADNOC. Activists have complained that putting an oil executive in charge of a UN climate summit gives cartoonish new meaning to the idea of the fox guarding the hen house. "Completely ridiculous," Greta Thunberg jeered.
To his credit, Sultan Al Jaber granted Harvey extraordinary access: She interviewed him "at length" three times and observed him at various meetings, including a Buckingham Palace visit with King Charles.
But if Al Jaber thought this access — and what Harvey describes as his "courteous and cheerful" demeanor — would yield the kind of positive coverage he's received elsewhere, he miscalculated. Harvey, one of the world's most experienced climate journalists, gave Al Jaber every opportunity to make his points but let him get away with nothing.
At one point, Al Jaber advances the oil industry talking point that he and his colleagues aren't to blame for climate change — they're only giving people what they want. "It's the consumer who contributes to increasing CO2 emissions, not the producer," he argues. Harvey acidly replies, "I point out that this is the logic of a drug dealer."
Al Jaber waves numerous shiny objects — "massive investments in renewables, in hydrogen, in carbon capture and storage" — to support his claim that oil and gas companies have a constructive role to play at COP28. Harvey stays focused on the science and the "single obdurate fact: the world cannot go on with a burgeoning fossil fuel industry."
That is the contradiction at the heart of COP28 and, more generally, climate action globally. It's the kind of story that journalism is made for, bursting with conflict and drama, and with immense amounts of money and power at stake, not to mention the future of life on Earth. The Israel-Hamas war is crucial for journalists to cover, and get right. So is the story of Big Oil and COP28.
From Us
Conference videos. We've created an event video playlist for the "Climate Changes Everything" conference held at Columbia Journalism School last month. See the videos by panel here.
Follow our LinkedIn page. Are you on LinkedIn? So are we! Be sure to follow our page for posts featuring webinars, jobs, helpful resources and studies, and smart ideas about the work of climate journalism and journalism generally. We hope to see you there!
Noteworthy Stories
Carbon disclosure. Big companies in California will be required to disclose their planet-warming carbon emissions under a new law signed by Governor Gavin Newsom. The move comes as federal regulators work on similar rules, which could be finalized this month. By Sophie Austin for Associated Press/Report for America via PBS NewsHour…
Insurance. Climate change is causing increasing losses for the US insurance industry, with natural disasters now costing up to $100 billion annually (compared to $4.6 billion in 2000), leading to less coverage and possible ripple effects. This story is the first in a four-part Grist series examining how climate change is destabilizing the global insurance market. By Lois Parshley at Grist…
See the Society of Environmental Journalists' new tip sheet for reporting on climate change and home insurance.
Climate relocation. Nearly five years ago, 40 homeowners in Charleston, S.C., took buyouts offered by the Federal Emergency Management Agency to avoid future damages from flooding. The city of Charleston surveyed them to provide a roadmap for future buyouts. "Understand that the wear and tear emotionally of the events that led to the buyout are huge, and to leave people in the dark with no communication is cruel and feels like torture," wrote one respondent. By Clare Fieseler at The Post and Courier… 
Changing jobs. Radio host Brian Lehrer asked listeners how their jobs are influenced by or impacted by climate change. A number of people shared insights, including Jane, an Instacart delivery driver who said she picked up groceries at far-flung locations, even when alternatives were close by, driving up emissions, and Robert, the longtime "naked Cowboy" of New York City's Times Square, who said summers have become "extremely hot." Listen at WNYC…
Passive in a good way. A new Boston skyscraper has become the world's largest office space certified to the highly energy-efficient "Passive House" standards, the first of its kind in the US. The building uses significantly less energy than comparable spaces while also setting an example for other energy-efficient construction projects. By Alison F. Takemura at Canary Media…
Reports, Resources & Events
Youth mental health. Climate change impacts "intersect with and compound other factors that threaten youth mental health, which is already precarious," according to a new report by ecoAmerica and the American Psychological Association. Read the report.
Scorching heat. Climate change made the recent South American heatwaves in late winter and early spring 100 times more likely, according to a new World Weather Attribution study. Millions of people were impacted as temperatures exceeded 40 degrees Celsius (104 degrees Fahrenheit). See the study.
Disinfo backgrounder. The global coalition Climate Action Against Disinformation has a new guide on climate mis- and disinformation, and how to counter it. Read it here.
Journalists database. The Open Notebook has a free database of journalists, writers, editors, and other communicators from around the world who cover science and related fields, including climate change. See the database.
Heating up. Clean Energy Wire is offering an online masterclass covering the transition to low-emission heating technologies. October 19. RSVP.
Follow the money. Ahead of an election cycle expected to break records for political spending, the National Press Club Journalism Institute and OpenSecrets are hosting a webinar training on how to cover campaign finance and lobbying. October 20. RSVP. 
Book of the Week
Our Fragile Moment by Michael Mann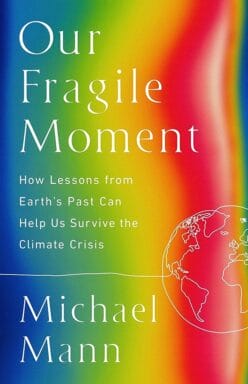 Like his hero Carl Sagan, Michael Mann is both an eminent scientist and a gifted communicator.  His new book peers into Earth's deep past to illuminate today's climate crisis. Much of the narrative is beyond what generalists need but is valuable for science reporters. And all journalists should heed his conclusion: Climate change is "not a cliff we go off" but "a dangerous highway we're going down. We need to take the earliest exit ramp possible." The 1.5 degrees C ramp is still feasible, if governments take the necessary action. If not 1.5 degrees C, then 1.6 is better than 1.7, and so on. And journalists' role? "Holding policymakers, opinion leaders, and corporations accountable is essential," writes Mann. Publication date: September 26, 2023
Industry News
First person. By sharing their personal climate experiences, journalists can make stories more accessible to audiences, writes Jill Hopke, associate professor of journalism at DePaul University. She points to David Gelles's recent dispatch about his house flooding in the Hudson Valley for The New York Times's "Climate Forward" newsletter as an example to emulate. Read more at Nieman Reports.
Jobs, Etc.
Jobs. National Catholic Reporter is hiring an executive editor. NBCUniversal is hiring a meteorologist for the NBC/Telemundo owned station in San Diego.
Climate pitches. Danielle Renwick has joined the Guardian US as an editor focusing on climate/environmental justice and holding the fossil fuel industry accountable. Pitch her stories here.
Solutions reporting. Solutions Journalism Network is offering $25,000 to help fund a project manager for a US collaboration producing climate solutions reporting. The application deadline is October 31. Learn more.