The horrific fires on Maui this week offer journalists a chance to explain how those fires are connected to the global climate story. Indeed, this year's record heat, fires, and flooding around the world are all climatic cousins — related by way of climate change. But it's not enough to report that climate change helps to drive such disasters. While true, that statement obscures the true culprit: the burning of fossil fuels that causes climate change.
Drawing this connection requires only 15 words: "Extreme heat is driven by climate change. Climate change is driven by burning fossil fuels." Or perhaps you can do it in even fewer; as Al Gore put it in a new TED Talk: "The climate crisis is a fossil fuel crisis."
In our climate-changed era, disasters like the Maui fires no longer happen in a vacuum. All of them, to some extent, are provoked or made worse by climate change. Yet many news reports still neglect to make this connection. Only 4% of national TV news segments on the Maui fires mentioned the term climate change, a Media Matters study found.
Making the deeper connection between extreme weather, climate change, and burning fossil fuels is easily and quickly done. In a segment about this summer's extreme temperatures, CBS News' Ben Tracy quoted a World Weather Attribution study to report that "Unless the world rapidly stops burning fossil fuels, these events will become even more common." In a Reuters story on the Hawaii fires, reporter Marco Garcia wrote that "Human-caused climate change, driven by fossil fuel use, is increasing the frequency and intensity of such extreme weather events, scientists say, having long warned that government officials must slash emissions to prevent climate catastrophe."
The good news is that the clean energy transition is arriving faster than anyone expected. In a series of articles describing that arrival, New York Times reporters David Gelles, Brad Plumer, Jim Tankersley, and Jack Ewing also elegantly make the extreme heat-fossil fuels connection: "As the planet registers the highest temperatures on record, rising in some places to levels incompatible with human life, governments around the world are pouring trillions of dollars into clean energy to cut the carbon pollution that is broiling the planet."
But defusing the climate emergency requires more than deploying green technologies: Fossil fuels must also be phased out, rapidly. The International Energy Agency has repeatedly stated that the world must cease building new fossil fuel infrastructure to limit global temperature rise to 1.5 degrees Celsius.
Holding governments and corporations to that imperative is a task for accountability journalism. Solid accountability journalism is grounded in the basic facts at issue. Those 15 words are a good place to start: Extreme heat is driven by climate change. Climate change is driven by burning fossil fuels.
From Us
Climate myths. Myths about climate change, often propagated by fossil fuel companies and their allies, persist, and even journalists can find themselves influenced by them. Check out these 10 climate key myths and how to debunk them. Take me there. 
Climate visuals. See key takeaways from our webinar, "Visualizing Climate Change." Read now.
Climate Changes Everything. Join leading journalists and climate experts for a two-day conference — September 21 and 22 at Columbia Journalism School in New York City — to discuss how to cover the climate crisis in ways that drive attention and impact while highlighting solutions and justice. This free conference is co-hosted by CCNow, Columbia Journalism Review, The Nation, the Guardian, and Solutions Journalism Network. Working journalists will receive priority in registration. Apply to attend.
The Finalists: Short-form Writing
We'll be previewing Covering Climate Now Journalism Award finalists' stories over the next few months.
The finalists for short-form written stories take readers to Louisiana and the intersection between climate change and threats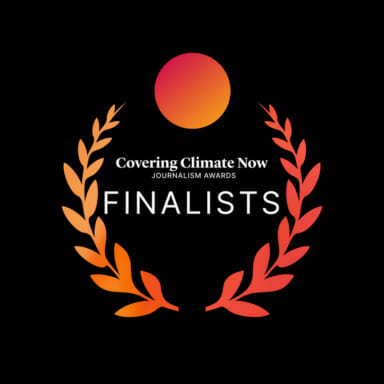 to nursing mothers and their babies; to Mexico where gas flaring (burning fossil fuel byproducts) endangers nearby communities; to Peru where the government took millions of dollars from carbon offsets that should have gone to a local tribe; to the Mississippi River basin for a collection of stories that humanizes wetter weather; to Sierra Leone and Liberia where communities are grappling with solutions to heat and sea level rise; to "news you can use" about utilities regulations and heat pumps; and finally, to the Sundarbans to investigate the relationship between sexual violence and climate injustice. See the short-form writing finalists.
Noteworthy Stories
Coral bleaching crisis. Driven by record-high ocean temperatures, widespread coral bleaching is happening in North and Central America, as well as the Caribbean, shocking scientists who warn of a global mass bleaching event. "This will only get worse until there is a global reduction in greenhouse gas emissions," said Dr Derek Manzello, coordinator of Coral Reef Watch at the US National Oceanic and Atmospheric Administration. Graham Readfearn at the Guardian…
Biden's challenge. It's likely that climate change will be a major US election issue but President Joe Biden faces challenges in conveying his climate record to the public. Polls indicate both disapproval and limited awareness of his achievements, notably the Inflation Reduction Act. Ryan Cooper argues that the decline of local journalism is a key reason why. Read more at Heatmap News…
Blame the judge. Fossil fuel companies facing a growing number of climate lawsuits are trying a new legal tactic: accusing judges of bias and demanding their recusal. They've done so in Rhode Island and Hawaiʻi, but so far, judges aren't budging. By Arianna Skibel at Politico…
IRA anniversary. Canary Media assesses how the Biden administration's landmark climate policy is progressing one year after its passage in a special series. How did the first year go? Where are factories opening? How much will emissions go down? What challenges remain? See the series.
EU solar surge. Most European Union countries are set to achieve their 2030 renewable energy targets ahead of schedule, outpacing predictions. The increase is attributed in part to plummeting prices of solar panels from China, and the desire to reduce dependency on Russia for energy. By Victor Jack at Politico…
Resources & Events
Journalists listserv. For journalists looking to connect with more reporters and experts globally, consider joining Internews' Earth Journalism Network's listserv. EJN is a media development organization that supports journalists, particularly in low- and middle-income countries, to improve the quality and quantity of climate and environmental reporting.
Climate & health. The University of California Center for Climate, Health and Equity will hold a webinar on the effects of food systems on climate and health. August 23. RSVP.
Climate messaging. The Water Hub, Climate Nexus, and Resource Media will share findings from a social media campaign featuring creators on TikTok, IG, and YouTube to help audiences understand the benefits of the Inflation Reduction Act. August 24. RSVP.
Just transition. Earth Journalism Network will hold a webinar on clean energy and a just transition. August 29. RSVP. 
Via X/Twitter: 
Montana's youth scored a major victory in a landmark climate case that experts say could have implications for a surge of climate lawsuits across the US. Check out our thread on the ruling and what's next.
The young people who sued Montana for a healthy environment and alleged that the state's pro-fossil fuel policies played a role in climate change have won their case. https://t.co/5B3ipZ9fvf

— Covering Climate Now (@CoveringClimate) August 14, 2023
Industry News
Maui wildfires. ʻAhahui Haku Moʻolelo (Hawaiian Journalists Association) and the Asian American Journalists Association-Hawaiʻi have issued a statement urging "journalists to exercise sensitivity and due diligence when framing their stories on the devastating Lāhainā wildfire." See their media guidance here.
Underreported. Vox staff writer Kenny Torrella argues that "the media too often ignores the connection between climate change and meat," which he talks about on WBUR's program Here & Now.
Jobs, etc. 
Jobs. Newsweek is recruiting an environmental sustainability and governance editor. The Post and Courier is hiring a rising waters lab reporter.
Scholarships. The Latin American journalism organization Fundación Gabo is offering scholarships for coverage of the Colombian Amazon. The application deadline is August 21.
Future leaders. Applications are open for the 2024 Future Leaders Climate Summit, hosted by the Future Leaders Climate Initiative at the Aspen Institute. The event takes place in Miami, Fla., in March 2024. The application deadline is September 5.