Sign up to receive our weekly newsletter in your inbox.
"Electrical vehicles are really powered by coal, because that's what's used to produce electricity." Reading that, did your BS detector go off? If not, you're not alone. Climate falsehoods can be hard to spot, and are often intentionally meant to confuse or deceive.
That misleading statement about EVs is an example from the global news agency Agence France-Presse's new online training course, "Verifying Climate Claims." The one-hour free course is designed to empower journalists in assessing both climate misinformation — defined as unintentional inaccuracies — and climate disinformation, which are deliberate falsehoods that promote a specific agenda. Both are on the rise as news about climate change, its far-reaching impacts, and potential solutions become more prominent.
AFP does not mince words about the seriousness of the problem: "Misinformation and disinformation undermine belief in the causes and dangers of climate change," AFP journalist Gaelle Faure says in a video introducing the training course. "They also undermine efforts to limit it and to mitigate the damage. They thus pose a threat to human health and life."
If that sounds serious, that's because it is. Climate action is needed now, and sowing doubt about climate change further delays action and can contribute to bad decisions. Journalists play a crucial role in verifying the accuracy of climate-related claims before reporting them and reporting on instances of climate misinformation. In doing so they help the public to make informed decisions grounded in evidence rather than inaccuracies or spin.
"Verifying Climate Claims" identifies common sources for climate falsehoods, including politicians, industry lobbyists, and climate-skeptic "think tanks." Importantly, sometimes well-meaning individuals also unintentionally spread climate misinformation too. AFP's training program provides guidance on how to spot inaccurate and deceptive climate claims, including greenwashing, and techniques to assess their accuracy. Journalists learn how to evaluate statements for fact-checking and are provided with recommended sources for doing so.
CCNow staff took the on-demand class, and highly recommend it to our fellow journalists. The course is designed to help people get up to speed fast, with a variety of multimedia elements — videos, examples, tips, and quizzes — making it dynamic and impactful.
Developed by AFP's digital investigation and climate teams, "Verifying Climate Claims" is available in four languages: English, French, Portuguese, and Spanish. AFP will provide you a certificate upon completion.
CCNow applauds AFP for its leadership in helping train fellow journalists to provide accurate reporting on climate change and supporting journalism excellence. By developing this course and sharing it free of charge, AFP has armed journalists with a powerful new tool to navigate the complexities of climate reporting. It could not come soon enough.
From Us
We're hiring! CCNow is looking for two engagement managers to maintain and grow our relationships with partner media outlets, as well as a project coordinator to help organize the day-to-day operations of CCNow. Apply by May 31. Learn more.

Noteworthy stories

Overheated, overwhelmed. A new study finds that if a major power outage occurs during a heatwave in Phoenix, Ariz., nearly half the city's population, 800,000 people, would require emergency room care. With climate change making heatwaves worse, and major blackouts doubling since 2015, other cities face similar risks. By Michael Levenson at The New York Times…
Giving up. Farmers in Kansas, the largest US producer of wheat, are abandoning their crops after severe drought and damaging cold struck their fields. Winter-wheat farmers say they plan to abandon 33% of the acres they planted, the highest since the First World War, which could lead to price increases. By Tom Polansek at Reuters…
Broken. Nearly all of Chevron's purchased carbon offsets, 93%, are considered "worthless and environmentally problematic," according to a new report by the corporate watchdog, Corporate Accountability. The oil giant's "junk climate action agenda is destructive and reckless," said Corporate Accountability's Rachel Rose Jackson. By Nina Lakhani at the Guardian…
Changing tactics. One of the worst humanitarian crises in recent history, a severe drought in the Horn of Africa, has killed tens of thousands of people and displaced millions more. The global response points to the need for a shift in humanitarian aid towards early action and climate adaptation funding to address long-term resilience and mitigate future climate impacts.  By Jake Bittle at Grist… 
Solar power. Rooftop solar is helping India and other countries with unreliable power grids to deliver more sustainable, reliable, and affordable healthcare at hospitals in semi-urban and rural areas. It's a big advantage for rural dwellers who are unable to travel to hospitals in larger cities.  By Sibi Arasu at the Associated Press…
Book of the Week
Facing the Climate Emergency: How To Transform Yourself With Climate Truth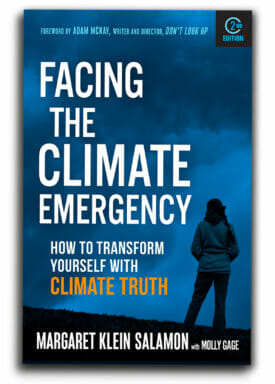 By Margaret Klein Salamon, New Society Publishers, Second Edition, 2023.
Scientists clearly state that we face a climate emergency. Why, then, aren't more people "rioting in the streets at the imminent destruction of their lives?" asks clinical psychologist Margaret Klein Salamon. She posits that humans have "a deep-seated psychological instinct" to avoid knowledge that is too painful. Her book aims to "make you feel your pain more … constructively and turn it into action." Confronting her own climate despair led Salamon to help launch the Climate Emergency Fund, which funds climate activists engaged in disruptive, nonviolent civil disobedience, which she believes is "the fastest way to create transformative change."
Kudos
When explaining the wildfire smoke that traveled from Canada, WCCO CBS News Minnesota meteorologist Mike Augustyniak used the opportunity to briefly explain climate attribution science to audiences. "It's called 'attribution' and the state of the science has come far enough now that we can look at certain weather conditions and say, 'These are X amount more likely now because of climate change,'" said Augustyniak. Watch:
Climate-weather link. See our newly updated guide, "Making the Climate Connection," for more examples of journalists connecting climate to extreme weather and its impacts.
Industry News
The Big Fix. The US public radio program 'The World' is relaunching its segment "The Big Fix" to focus on global climate solutions. The series will examine different approaches to cut emissions and adapt to climate change, while addressing equity. Learn more. 
Degrowth. The first "Beyond Growth" conference, which centered on the limitations of economic growth, took place last week at the European Parliament. Didn't hear about it? According to reporting by journalist Rachel Donald, that's because mainstream media outlets are reluctant to cover stories critical of economic growth. Read more. 
Resources and Events
Climate lawsuits. The Wave is a website and newsletter tracking global climate lawsuits, profiling the individuals involved, analyzing litigation trends, and assessing the impacts and limitations of these legal actions. Check it out.
African voices. A new report by the Ellen Johnson Sirleaf Presidential Center in Liberia highlights the achievements of African women who are "shaping discussion and shaking up their communities to respond to the climate crisis." Read the report. 
US power plants. The Society of Environmental Journalists has a new issue backgrounder on the US Environmental Protection Agency's recently proposed power plant rule. Check it out.
Technology. The New York Times is hosting global leaders in business, science, culture, and policy in Busan, South Korea, to explore how innovation could transform oceans, cities, and energy systems. In person and on demand. May 26. RSVP.
Bonn intersessional. World Resources Institute and E3G will host a press call to preview the UN climate negotiations being held June 5-15 in Bonn, Germany. May 30. RSVP.
Climate adaptation. Clean Energy Wire will hold an event about reporting on climate adaptation, including approaches, reliable sources, pitfalls to avoid, and potential story ideas. May 31. RSVP. 
Food. Sentient Media will hold a webinar on how to improve media coverage of food and its connection to climate change. June 1. RSVP. 
Jobs, etc.
Jobs. Climate Home News is hiring an audience engagement editor.
Fellowships. The Pulitzer Center is recruiting several journalists, particularly from the Global South, for one-year "Ocean Reporting Network" fellowships. Apply by June 18. Learn more.
Grants. Journalismfund.eu is offering investigation grants to journalists and newsrooms to investigate environmental affairs related to Europe. Apply by July 27. Learn more.
Welcome! The following media outlets have joined the CCNow collaboration: Africa Eco News, Brooklyn Eagle/Bluedot Living Brooklyn, Imagine5, Modern Farmer, Oxpeckers Investigative Environmental Journalism, ((o))eco, RADAR Magazine, Rudaw Media Network, and the 19th.