Sign up to receive our weekly newsletter
The heat has come for China. Beijing saw a three-day stretch of over 40 degrees Celsius (104 degrees Fahrenheit) last week. Temperatures in Shandong, a populous grain-growing province in the country's north, prompted heat stroke warnings. Continued burning of fossil fuels is often seen as imperative to growing prosperity in China, the world's top annual emitter of greenhouse gases (though the US remains the leading historical emitter). But the current heat illustrates how continued burning of fossil fuels actually imperils economic and human well-being, not only in China but around the world.
As in recent years, record heat is again afflicting much of the Northern Hemisphere. Temperatures have soared beyond 40 degrees C in India, Bangladesh, Thailand, and Laos since April, in a wave of record-breaking heat that would have been "virtually impossible" without global warming, according to World Weather Attribution. Meanwhile, the US South has been blanketed in heat that was made five times more likely by climate change. Don't think that all of this is because of the much-reported El Niño. Global warming has raised baseline temperatures around the world; El Niño is only the meteorological cherry on top.
This heat gives healthcare reporters opportunities to ask questions about medical preparedness as temperatures around the world threaten to exceed safe limits for the human body. In 2010, researchers found that at 46 degrees C with 50% humidity, or 35 degrees C with 100% humidity, the human body can no longer cool itself to maintain a stable body core temperature. (More recent research found that the upper limit was even lower.) As heatwaves this summer thrust many regions into dangerous territory, journalists have an opportunity to investigate what pressures these climate-supercharged temperatures place on medical infrastructure, particularly in rural places where access to hospitals may be limited, and to remind readers about how to stay safe.
Air conditioning is the obvious safety tool in a heatwave, but air conditioning is also a global warming menace, especially if it's not powered by solar or zero-carbon energy sources — a perfect story for energy reporters. It's clear that more energy will be needed simply to keep people alive as global temperatures keep climbing. Heatwaves offer journalists an opportunity to remind audiences that this energy needs to come from sources compatible with, not destructive of, a livable planet.
At a time when the world needs to be slashing emissions by 7% per year to limit temperature rise to 1.5 C, emissions in 2022 instead rose by about 1%, according to a recent report by the Energy Institute, reported by the Guardian. Given that economic prosperity is often used to justify expanding fossil fuel consumption, news coverage should remind audiences that climate change can also cause economic contraction, not to mention human suffering. Let's connect the dots: until humanity stops burning fossil fuels, the heat will come — and come and come.
From Us
CCNow job! We're hiring a Director of Training to develop our overall training strategy for newsrooms in the US and around the world. Apply by July 15. View the job.
Extreme weather en español. CCNow's Extreme Weather guide is now available in Spanish. Check it out.
Review copy. Margaret Klein Salamon has made her 2020 book, Facing the Climate Emergency: How to Transform Yourself With Climate Truth, available for members of the CCNow community. Request a physical copy or a PDF here.
The Finalists: Documentary
We'll be previewing Covering Climate Now Journalism Award finalists' stories over the next few months.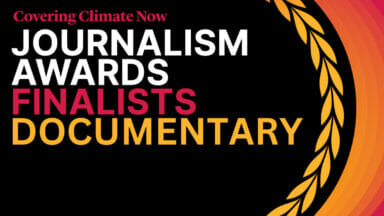 Take a trip around the world with our first finalists category: devastating environmental impacts of strip mining in Ghana; an ominous glimpse at Seoul, South Korea, in the future; the chilling story of a murdered activist in South Africa; the long-term physical and psychological ramifications of flooding in Kenya; an ambitious investigation digging deep into Big Oil; and a heartwarming story about a Kenyan community that comes together to provide vital weather and climate information. See the documentary finalists.
Noteworthy Stories
Climate impacts. The record-breaking heatwave causing people to suffer in the Southern US and in parts of Mexico was made at least five times more likely due to climate change, according to a recent Climate Central analysis. By Oliver Milman at the Guardian…
F is for failure. The UK government's own climate advisory committee has concluded that the country is missing its net-zero emissions targets on nearly every front. Poor political leadership, including approvals for new coal mines and oil and gas fields, has blocked progress "at a moment not just of national emergency but of global emergency," said Lord Deben, the committee's outgoing chairperson. By Fiona Harvey at the Guardian…
Out of date. New US infrastructure projects, such as roads and bridges, could be immediately outdated because they rely on old NOAA precipitation estimates that don't take climate change into account, according to a new report. As a result, new infrastructure could be ill-equipped to safeguard against present and future flood risks caused by heavy rainfall. By Thomas Frank at E&E News via Scientific American… 
Good growth. In a new World Bank report, economists propose a strategy that fosters countries' economic growth while preserving nature. "It's all about farming more intensively and in appropriate places, while preserving larger areas of forest and other habitat that stash that planet-warming carbon and support biodiversity," write Lydia DePillis and Manuela Andreoni at The New York Times…
Visualizing CO2. NASA has released new visualizations that show the buildup of carbon emissions in the atmosphere over one year and highlight the big gap in emissions between the Northern and Southern Hemispheres. By Ayesha Tandon at Carbon Brief…
Summer Book Club
Yale Climate Communications is hosting a book club! They've selected Not Too Late, a climate hopeful book edited by Rebecca Solnit and Thelma Young Lutunatabua, and will ask questions and more over the next couple of months. On September 5, YCC will host a webinar conversation with Lutunatabua and Nikayla Jefferson, who wrote an essay that appears in the book. To participate, sign up here.
New Reports
Rainforest deforestation. About 10.2 million acres of primary rainforest was lost in 2022, a 10% increase from the year before, according to a new World Resources Institute report. The loss led to 2.7 gigatonnes of carbon emissions, equivalent to India's yearly fossil fuel emissions. See more at Mongabay.
Heat costs. The Center for American Progress estimates that extreme heat will result in $1 billion in health care–related costs this summer, as well as 235,000 emergency department visits and over 56,000 hospital admissions for heat-related or heat-adjacent illness. See more at Grist. 
US climate views. Yale Program on Climate Change Communication has a new report out on how registered voters see a variety of domestic climate and energy policies. See the report.
Resources & Events
Health and heat. The Association of Health Care Journalists has a new tip sheet for reporting on extreme heat, including the importance of highlighting "how a warming climate invites deadly diseases and pests to have a larger range." Read it.
Wildfire smoke. The Society of Environmental Journalists has local story ideas for reporting on wildfire smoke via their new tipsheet.
US climate policy. The World Resources Institute's new US Climate Policy Resource Center has a wealth of information on what's required to successfully implement the Bipartisan Infrastructure Law and Inflation Reduction Act climate provisions across 10 sectors. Check it out. 
WRI will hold a panel discussion on the key issues that cities, corporations, utilities, and others should consider in order to best take advantage of IRA tax credits for clean energy projects. July 5. RSVP. 
Science for editors. SciLine is offering a one-hour science "crash course" for editors about how science works, how to integrate it into your journalism, and how to make sure the science is right during editing. July 10. RSVP.
Jobs, etc.
Jobs. CBS Mornings is hiring a weather producer. The Boston Globe is recruiting a climate science editor. WSOC Charlotte is hiring a climate beat reporter for station newscasts.
Photojournalism grant. Diversify Photo and the Pulitzer Center are accepting applications for the Eyewitness Photojournalism Grant, which supports projects by independent photojournalists historically underrepresented in the global media landscape. Learn more.