The 2023 Atlantic Hurricane season started on June 1. El Niño, the weather pattern that warms tropical waters in the Pacific Ocean, began on June 7. Globally, sea surface temperatures have spiked, reaching a record high in April, a foreboding reminder that Earth's oceans have absorbed roughly 90% of the excess heat produced by humanity's burning of fossil fuels. Signs suggest that the Northern Hemisphere summer of 2023 will be extra hot and thus require journalists to cover all sorts of extreme weather, including hurricanes (also known as cyclones or typhoons).
Climate change's connection to hurricanes is scientifically well established but not straightforward. Hurricanes are fueled by exceptionally hot ocean surface water, so it makes intuitive sense that hurricanes would get worse on a hotter planet. But worse, in this context, means something specific.
The latest science indicates that climate change has increased the severity of hurricanes but not their frequency. In other words, Earth is experiencing roughly the same number of hurricanes as ever, but more of these hurricanes are stronger (i.e., a Category 3, 4, or 5), while fewer are weaker (Categories 1 and 2).
Scientific understanding continues to evolve, but the consensus is that global warming influences hurricanes in three main ways. First, it makes oceans hotter, and hot oceans are the primary driver of hurricanes (which is why hurricane season coincides with summer). Second, it makes the atmosphere warmer, and since warmer air holds more moisture, a given storm can dump more rain. And third, it raises sea levels, which means that a hurricane's storm surge — the wall of water that makes landfall — reaches farther inland and can cause greater devastation. (For more, see CCNow's extreme weather guide.)
Scientists are not always the most plainspoken people, but a skillful reporter can still make the climate connection clear by briskly summarizing the prevailing science. When NPR's Rebecca Hersher recently interviewed the new director of the National Hurricane Center, Michael Brennan, and asked him about the climate connection to hurricanes he said, "We're most confident in the impacts of a changing climate on storm surge inundation and rainfall rates. [But] how much stronger will the hurricanes be from a wind perspective? Will there be more Category 4 or 5 hurricanes? There's a lot less certainty in those projections."
Brennan's comments, like those of many government scientists, were accurate but hedged. Hersher let Brennan speak but made sure to tell listeners at the outset that "The United States is feeling the effects of climate-driven storms. A hotter Earth makes storms more likely to get big and dangerous."
Former CNN anchor Don Lemon got pushback last year for asking about climate change while covering Hurricane Ian, the costliest storm in Florida history. Critics complained that Lemon should not have been talking about climate change while the storm was still raging and lives were at risk. But isn't it precisely when audiences are seeing a hurricane's devastation on screen that they should hear about what might be behind that devastation? Unfortunately, barely 5% of the segments that national TV networks in the US did on Ian from September 24-28, 2022, even mentioned climate change, according to a Media Matters study.
The 2023 hurricane season is an opportunity to do better, and journalists have a powerful new tool at their disposal. Climate attribution science can now calculate, often within 72 hours, how much likelier climate change makes a given extreme weather event. For example, climate change boosted Hurricane Ian's rainfall by 10%, enough to flood neighborhoods that otherwise would have remained dry. Even if an attribution study hasn't yet been published, the underlying science is clear enough for journalists to state plainly: Climate change is making hurricanes stronger and more destructive.
From Us
New CCNow job! We're hiring a Director of Training to develop our overall training strategy for newsrooms in the US and around the world. Apply by June 20. View the job.
Solutions en español. A cheat sheet for the CCNow Climate Solutions Reporting Guide is now available in Spanish. Check it out.
Noteworthy Stories
Kids vs Montana. Sixteen young people in the US are suing their home state of Montana, arguing that its support for climate damaging fossil fuel violates their constitutional rights. Montana's constitution requires state officials to maintain a "clean and healthful environment." By Savannah Sellers at NBC News…
GOP + climate. Where do the nine major Republican presidential candidates stand on climate? While most accept climate change, they downplay its severity, and reject policies aimed at halting fossil fuel emissions. This article summarizes GOP candidate climate positions, helpful as US primary election season gets underway. By Maggie Astor and Lisa Friedman at The New York Times…
Net zero bunk. The net-zero emissions plans of most fossil fuel companies are "largely meaningless," according to a new report. Some 75 of the world's 112 largest fossil fuel companies have pledged to emit no more greenhouse gases than are offset by removing carbon from the atmosphere, but most such pledges ignore the largest source of the companies' emissions — the burning of their products. By Gloria Dickey and Simon Jessop at Reuters… 
Talking trauma. The University of Victoria in Canada is training student journalists to interview survivors of climate disasters with "bold empathy." That means giving survivors some control over how the interview is conducted and published and, above all, listening deeply to a traumatized person's story, not simply aiming to extract information. By Laura Lynch at CBC/Radio-Canada…
Rest in peace. Five days before passing away, Roger Payne, who 50 years ago discovered that whales sing to each other, warned that humanity will not survive unless we recognize that every species "depends on … other species to keep the world habitable for it." Payne believed that "awe-inspiring life forms like whales can focus human minds on the urgency of ceasing our destruction of the wild word." Read Payne's final article at TIME…
Industry News
Vulnerable and ignored. National TV news coverage of climate catastrophes in the US mostly overlooks the lived experiences of the country's most vulnerable citizens, which limits public awareness and pressure for change, according to Media Matters. Read more.
Smoke and climate. A Media Matters' analysis found that major national TV news broadcasters and cable news networks ran 89 segments covering the Canadian wildfire smoke that blanketed the US East Coast on June 7. The topic of climate change was mentioned just 15 times within these segments. Read more. 
Made in the USA. Canary Media ran a week-long series on the growth of US clean energy manufacturing since the Inflation Reduction Act passed last year. Go to the series. 
Facing Down the Fossils. Nexus Media News and PBS's Peril and Promise have launched "Facing Down the Fossils," a four-part series on communities grappling with the consequences of pollution and economic losses from the fossil fuel industry — and how they're fighting back. Check it out. 
Book of the Week
The Three Ages of Water:  Prehistoric Past, Imperiled Present, and a Hope for the Future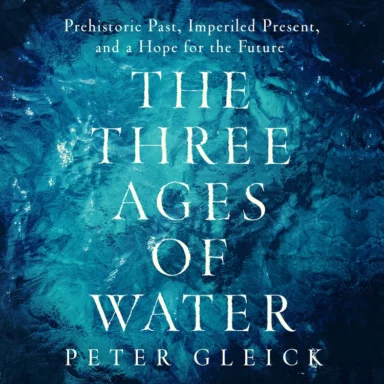 By Peter Gleick, Public Affairs, Published: June 13, 2023
One can't talk about climate change without talking about water — and vice versa — writes Peter Gleick, one of the world's great experts on the two subjects. This magisterial book points out that, as with climate change, humanity already possesses the know-how and technologies needed to solve its accelerating water crises. Abandon the dominant "hard path" approach — that is, mining every aquifer and damming every river in sight to maximize (and often privatize) supply — Gleick urges. Adopting a "soft path" that uses water much more efficiently can meet the basic needs of humans and natural systems alike.
New Reports
Land rights. Rights and Resources Initiative published a new report, "Who Owns the World's Land?" on the increase of legally recognized community lands by Indigenous peoples, people of Afro-descendant, and local communities since 2015.
Fossil fuel racism. A new paper published in the peer-reviewed journal Energy Research & Social Science "maps out the disproportionate harms at every stage of the coal, oil, and gas lifecycles for Black, Brown, Indigenous and poor communities."
IRA impacts. Researchers at Dartmouth and Princeton released a new report, funded by the BlueGreen Alliance, on the estimated impacts of the IRA implementation on the US wind and solar industry.
Resources & Events
Climate mindset. The Yale Program on Climate Change Communication and the George Mason University Center for Climate Change Communication have a new report, "Climate Change in the American Mind: Beliefs & Attitudes," based on polling conducted in spring 2023.
Misinfo. Climate Action Against Disinformation has launched a monthly bulletin called the CAAD Data Monitor to explain how a piece of climate misinformation originated and proliferated. and how to safeguard against it. Sign up here.
Burnout. The Self Investigation Academy in partnership with el Centro Investigativo de Periodistas de Puerto Rico has a self-directed Spanish-language class on climate and burnout for journalists. Available through July 2. Check it out.
LGBTQIA+. Earth Journalism Network will hold a talk on the ways LGBTQIA+ communities are disproportionately affected by climate change and environmental degradation. June 20. RSVP.
Capitalism + climate. Is capitalism compatible with a world in the throes of climate change? Project Drawdown will hold a talk, "Capitalism and Climate Change: Moving Toward Solutions," to explore this and other questions June 21. RSVP.
Jobs, Etc.
Jobs. The Guardian is hiring a commissioning editor, special series (environment). The Financial Times is looking for a US energy editor. WTAJ-TV in Altoona, Penn., is looking for a meteorologist/reporter. Scientific American is recruiting a news intern, an op-ed intern, and a graphics intern. High Country News is hiring an editorial intern, Indigenous affairs desk.
Fellowships. Earth Journalism Network is offering in-person and virtual fellowships for journalists from low- and middle-income countries to cover COP28. Apply by June 30. Learn more.