"This is only the first sip, the first foretaste, of a bitter cup which will be proffered to us year by year until … [we] connect the dots," Al Gore said 18 years ago this week. With waves 10 to 19 feet tall, Hurricane Katrina blasted into New Orleans on August 29, 2005, putting 80% of the city underwater. The first major US casualty event of global warming, Katrina left 1,800 people dead and thousands more homeless while causing at least $200 billion of economic damages.
The intervening years have borne out Gore's baleful prediction. Fossil fuel burning has soared, pushing global temperatures higher and fueling more and more extreme weather. Record heat has been the most obvious result this Northern Hemisphere summer, but hurricanes may be next. Yesterday, Hurricane Idalia slammed into the northwest coast of Florida, bringing 125 mile an hour winds and storm surges of 10 to 12 feet. Parts of the state's capital, Tallahassee, "may be uninhabitable for several weeks or months," NBC News reported, citing the National Weather Service.
The Atlantic hurricane season lasts until November 30 — and peaks between now and October — so it's crucial for newsrooms to get up to speed on how hurricanes are connected to climate change. Journalists can refer to CCNow's guides "Extreme Weather" and "Making the Climate Connection" and Climate Central's "Extreme Weather Toolkit." They can also join us next Wednesday, Sept. 6, for a Talking Shop webinar where Jeff Berardelli of WFLA in Tampa, Alex Harris of the Miami Herald, John Morales of NBC 6 in Miami, and Rob Perillo of KATC in Lafayette, La., will discuss best practices for covering hurricanes when the planet is on fire.
The key point is that "climate change is making hurricanes more destructive," Texas state climatologist Andrew Dessler wrote in a concise summary of what scientists know about climate change and hurricanes (more generally known as tropical cyclones). Today's hurricanes are more destructive for three main reasons, Dessler added: Sea levels are higher, so storm surges crest farther inland; more rain falls in a shorter time, stressing drainage systems; and hurricanes themselves are stronger — there are more Category 3, 4, and 5 hurricanes today than there have been historically.
Driving all this: The world's oceans are hotter than ever in recorded history, thanks to global warming, and hot oceans are food for hurricanes. Every 1 degree Celsius increase in ocean temperature increases a hurricane's "destructive potential" by 50%, Jeff Masters, a meteorologist at Yale Climate Connection, told Bloomberg Green.
There are caveats. Hurricanes are caused by multiple factors; extra hot ocean water alone does not guarantee that a hurricane will form; wind shear also matters. And while climate change is making hurricanes more destructive, it is not necessarily increasing their absolute number.
Hurricane Idalia is the latest incarnation of "the bitter cup" Gore warned about 18 years ago. It will not be the last. News coverage should help audiences understand: The extreme weather that has been battering so much of the planet will only get worse until humans stop burning oil, gas, and coal. It's that simple.
From Us
Hurricanes. Join us next Wednesday for a Talking Shop webinar on "Making the Climate Connection During Hurricane Season." Jeff Berardelli, chief meteorologist and climate specialist at Florida's WFLA; Alex Harris, lead climate reporter at the Miami Herald; John Morales, hurricane specialist at Miami's NBC 6; and Rob Perillo, chief meteorologist at Louisiana's KATC will discuss best practices for covering hurricanes and making the climate connection. September 6, at 1:30pm ET. RSVP.
Climate Changes Everything. Join leading journalists and climate experts for a two-day conference — September 21 and 22 at Columbia Journalism School in New York City — to discuss how to cover the climate crisis in ways that drive attention and impact while highlighting solutions and justice. This free conference is co-hosted by CCNow, Columbia Journalism Review, The Nation, the Guardian, and Solutions Journalism Network. Working journalists will receive priority in registration. Apply to attend.
We're hiring! Covering Climate Now is considering applications for two positions: freelance graphic designer and freelance newsletter writer. Due September 18. Apply here.
The Finalists: Newsletters
We're previewing Covering Climate Now Journalism Award finalists' work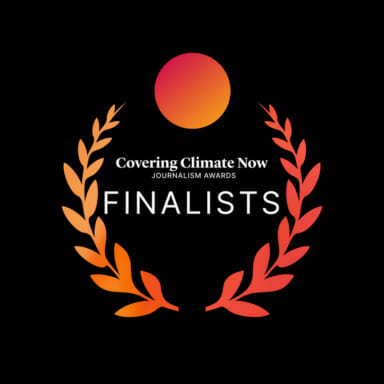 Looking for a steady flow of climate coverage in your inbox? Consider subscribing to these four newsletters: Sammy Roth's 'Boiling Point' is a masterclass in transparent solutions journalism covering the American West; the Guardian's thorough 'Down to Earth' update "does everything well," according to judges; Magma Magazine's 'Lapilli' captures readers interest by examining the intricate connections between social and environmental issues across the Mediterranean region; and The Narwhal's time-limited 'Political Climate' directly served Ontario audiences in the lead-up to June 2022 elections. See the newsletter finalists.
Noteworthy Stories
Fossil fuel connection. The non-profit Fossil Free Media has installed billboards in US cities featuring a map of this summers' record-breaking temperatures across the country and the text: "Brought to you by Big Oil." A July study found that this summer's deadly heat waves would have been "virtually impossible" without climate change, which is driven mostly by fossil fuel emissions. By Dharna Noor at the Guardian… 
Drying up. Rising temperatures linked to climate change and increasing population will continue straining freshwater resources, with an additional billion people predicted to live in regions with high water stress by 2050, according to new research. Solutions include more efficient irrigation, new water pricing policies, and reducing meat consumption. (Be sure to check out the interactive globe that shows water stress around the world.) By Veronica Penney and John Muyskens at The Washington Post…
Keep your (IRA) money. Florida governor and GOP presidential candidate Ron DeSantis has turned down hundreds of millions of dollars of federal clean energy subsidies for his state's residents in an apparent effort not to appear to endorse president Joe Biden's signature climate change legislation. DeSantis also rejected grants from the Bipartisan Infrastructure Law. By Jennifer Haberkorn at Politico… 
Electrify everything. The Inflation Reduction Act "brings the US significantly closer to meeting its 2030 climate target," with the largest portion of emissions reductions coming from the electricity sector, according to a new study published in Science that looks at US energy system and economy models. The paper concludes that the US needs to do more to reach its 2015 Paris Agreement climate goals. By Alicia Zhao and Haewon McJeon at Carbon Brief…
Global activist peril. Around the world, climate and environmental protesters are increasingly harassed, attacked, and arrested. New laws are imposing severe penalties on protesters, corporations are suing them, and governments are labeling them "domestic terrorists." The media often emphasize activists' disruptive tactics over their climate goals. Drilled's new cross-border investigation digs into the worrisome trend. See the stories at Drilled…
See the US Protest Law Tracker for existing and pending state and federal legislation restricting the right to protest.
Events
Climate summit. The first-ever Africa Climate Summit will be held in Nairobi, Kenya, with funding for environmental priorities expected to be a key issue. September 4 – 6.
Global stocktake. World Resources Institute is holding a webinar focused on the recent UN recommendations for global climate action ahead of UN Secretary-General António Guterres's Climate Ambition Summit (September 20) and the Global Stocktake at the COP28 climate summit (November 30 – December 12). September 12. RSVP.
Engaging Americans. MIT Environmental Solutions Initiative is hosting an event on how to engage Americans on climate change with climate scientist Professor Katharine Hayhoe and the 2023 MIT Environmental Solutions Journalism Fellows. September 13. RSVP.
Climate journalism summit. Registration is open for the European Journalism Centre's 2023 News Impact Summit in Lisbon, Portugal, on October 12. Register.
Industry News
Coverage gap. Animal agriculture is responsible for generating approximately 15 to 20% of carbon emissions, but its climate impacts are barely mentioned in the news. Media coverage often underreports the connection due in part to meat lobbyists who "muddy the waters, creating an environment of misinformation and exaggeration." Read more at Vox.
Jobs, etc.
Jobs. S&P Global Commodity Insights is recruiting a reporter, renewable energy and climate. The Boston Globe is seeking a climate science editor. The Chesapeake Bay Journal is hiring an environmental reporter.
Call for pitches. Climate Home News is looking for pitches on the trends and actors shaping the renewable energy supply chain.